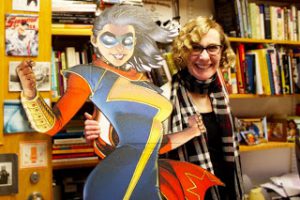 Photo by Jill Steinmetz
I've been a comics fangirl since I was a kid—"Betty and Veronica" to my big brother's "Spider-Man" comics.
I teach English at Goshen College, a small but mighty liberal arts school in the "Michiana" area, where my courses range from American Literature and critical theory to composition and creative writing.
I first brought comics into my professional life when I created and taught a course called The Graphic Novel in 2008. I started "Commons Comics" in 2013 to stay current in the field. It was hosted first by my college, then picked up by "The Elkhart Truth," a local newspaper, before I moved it to my own page.
I am now co-editing an essay collection with comics and religion scholar Hussein Rashid about Kamala Khan, the new Ms. Marvel. Look for it on the University Press of Mississippi in 2020. (Working title: "Ms. Marvel's America.")