Originally published on GoshenCommons.org February 17, 2014
This past week I've been writing an academic conference paper that expands on some of the themes in two of my earliest posts, about Chris Ware's "Building Stories," "Visceral Comics," parts one and two.
In the meantime, here's a teaser for my next review, of Joe Sacco's "The Great War," a 24-foot wordless comic about World War I's Battle of the Somme. Here's a photo from "The New Yorker,"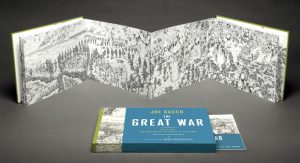 and here's a link to an interview with the author:
http://www.newyorker.com/books/page-turner/joe-saccos-the-great-war
See you in two weeks with the review, and if you can't wait, you can pick up a copy at  Better World Books in Goshen, Indiana.