Our classes just started at Goshen College, so I'm a bit behind on my review of Lorena Alvarez's Nightlights. In the meantime, however, I have some fun student work to share with you.
I'm teaching a course on graphic novels this semester. The students are learning about the history of comics and graphic novels, and will create short graphic memoirs of their own by the end of the class.
Part of what we practice as a class is sketching rather than drawing, so that students can create the types of simple, iconic characters that help readers engage more fully with the language of comics. Scott McCloud, in his seminal 1993 work Understanding Comics—a book in comics form about how comics work—illustrates the importance of icons to visual storytelling in these two now-famous frames: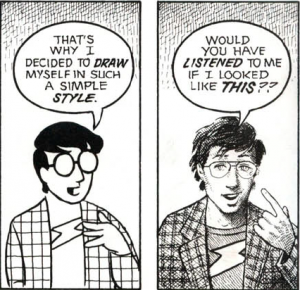 McCloud claims that although realistic drawings can be used at certain points in comics to create a particular effect—in Art Spiegelman's Maus, for example, the gates of Auschwitz are drawn with a realism that emphasizes their historical specificity—storytelling in comics is most effective when there's not too much going on, when simple images don't battle for attention with the words, but work together to tell the story.
Inspired by the first collected trade of Ms. Marvel, which we read as a class last week, I gave my students file cards for a homework assignment: draw your superhero self. I emphasized that they shouldn't spend too much time on it, in hopes that they would keep it simple.
The results were so fantastic and diverse that I asked their permission to share them with you all. Keep an eye out for these characters: since one of the projects for this class is to put together a publication, whether online or in print, this may not be the last time you see this collection of oddballs with strange and mysterious powers.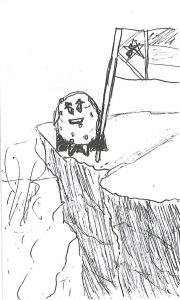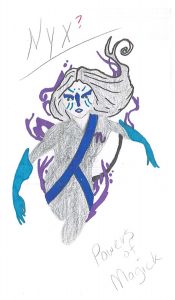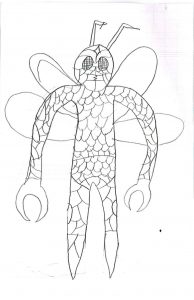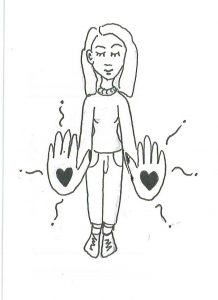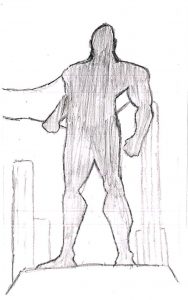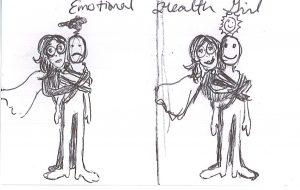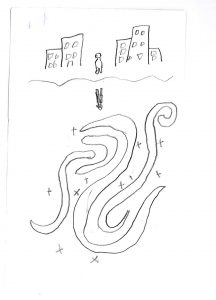 Drawings by Peter Shirk (Potato Man), Sondra Flores-Reyes (Nyx), Claude C. Lilford (Bug Guy), Anna the massage therapist (Healing Hands), Cristina Jantz (Life-Changer), Bryce Stopher (Super Silhouette), Irina Gladun (Emotional Health Girl), and Em Brewer (Dream Reflection)
My 5- and 7-year-olds saw my students' drawings and were inspired to try their own, so as an added bonus, here are Fireball Man and Super Nutrition Man (seen in action, crushing some unhealthy candy in his supergrip):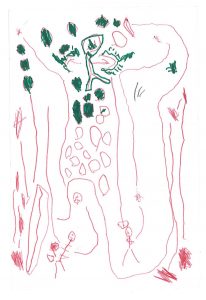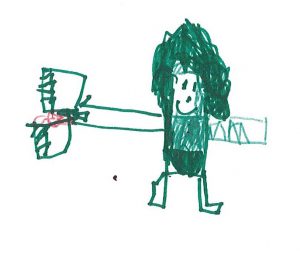 And what does your superhero self look like? I hope you're inspired, too. Get yourself a file card (or just fold a piece of paper to 5 x 7 or so) and give it a shot—and feel free to post your pics, however weird or anatomically awkward. Our class subscribes to the Lynda Barry aesthetic of affection for heartfelt drawings, no matter how unlikely or unpolished.
And if you're craving more visual complexity, stay tuned for a review of Lorena Alvarez's lush book debut, her children's narrative Nightlights. Thanks as always to Better World Books in Goshen

for keeping me supplied with comics to review. You can find these and plenty of other titles at the store—and remember, shipping is free, and most books arrive in a couple of days.