"Monster Portraits," by Del Samatar and Sofia Samatar. Rose Metal Press. February 2018. 84 pp. Paper, $14.95. Adult.
Thanks to Better World Books, 215 S. Main St. in Goshen, for providing me with books to review. You can find or order all of the books I review at the store.
2018 has been a great year for literary monsters. Mary Shelley's "Frankenstein" is celebrating its 200th anniversary, and Emil Ferris's graphic novel "My Favorite Thing Is Monsters" won three Eisners, the most vaunted award for comics in the U.S.
Siblings Sofia and Del Samatar's new book "Monster Portraits" settles comfortably between these two celebrated texts. Itself a monstrous hybrid of many genres—picture book, travel narrative, memoir, science fiction story, philosophical treatise, and scholarly gloss—"Monster Portraits" gathers centuries of monsters close for examination, honor, and affectionate portrayal. These are, after all, "portraits," not the mug shots that society expects of those it deems monstrous.
This book is not a comic, but much like another non-comic I reviewed for this blog, Neil Gaiman's "Hansel and Gretel," it draws heavily from the genre. The influence of comics, among other genres, shows through not only in the style of its illustrations, but also in its outsider sensibility. (My review of TOON Books' "Hansel and Gretel," "'Dark Things' for a Dark World" was published by the "Elkhart Truth" in February 2015, when they were hosting this blog. I'll aim to re-post it here by February 2019.)
Sofia Samatar's credentials straddle academic writing and fiction, and her brother Del brings his versatile skill with the visual arts. His experience as a tattoo artist is evident in images like this,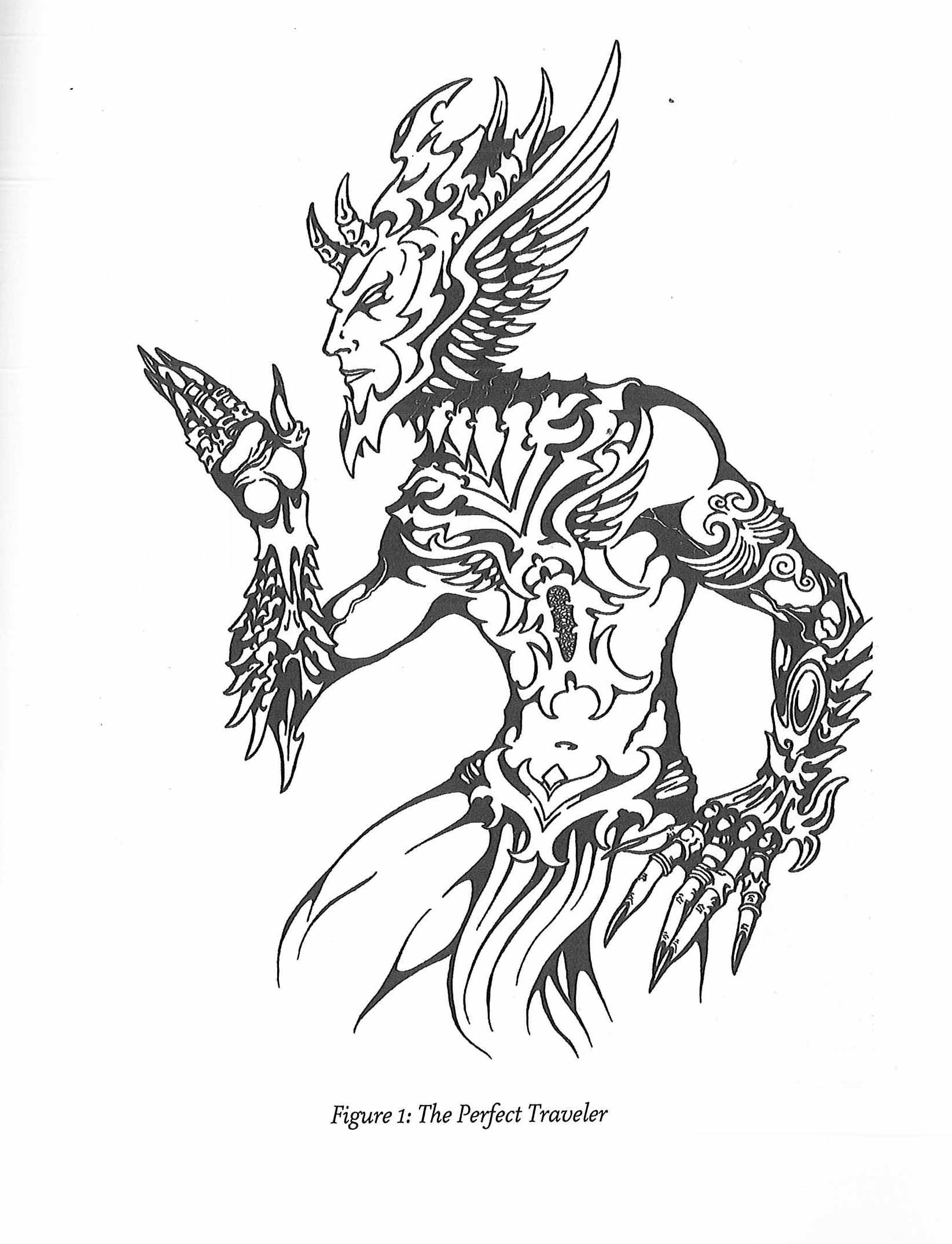 while the influence of more intricate precursors in illustration—the type you're more likely to see framed in a museum, like William Blake or Honoré Daumier—show up as well. Here's Del's "Collector of Treasures," for example,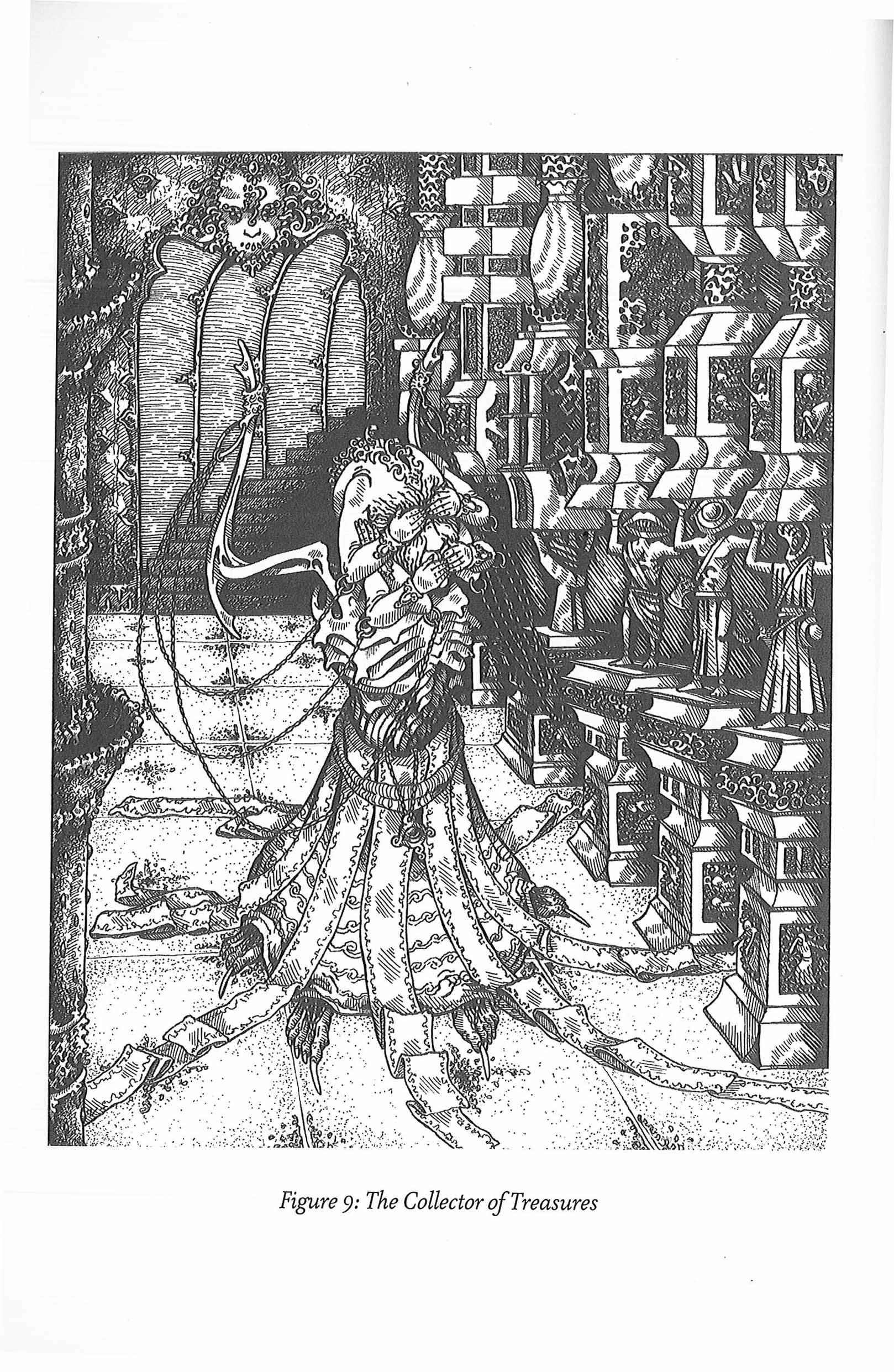 Readers can lose themselves in Del's images, much like the narrative versions of Sofia and Del lose themselves in their travels over the course of the book. "We went into the field to study monsters in their environment," the book begins. "We thought it would be like a holiday or a game. Instead it became a journey that lasted an indeterminate length of time."
The journey is the thread that connects these fragmented short pieces, which fall between prose poems and flash fiction. Sofia convinces Del to write a book with her, to "tell [their] lives through monsters, as the ancient Egyptians told the year through the myth of Osiris. A mirror becomes architecture when you pass to the other side: this is what we had understood as children."
As the children of a white Mennonite mother and a Somali father, both Del and Sofia were well trained in the unpredictability of societal categories at a young age. Throughout the text, Sofia inserts snippets of memoir in which others examine and try to categorize both her and her brother. Monstrousness thus becomes a metaphor for all types of exclusion, including racial, as well-meaning and more insidious people work to fit them into boxes.
In "Nameless," for instance, Sofia recalls a moment of being trapped within her companions' "detailed racial cartography": "They were trying to figure out if I was métisse or chabine. Métisse is dark-skinned with European features, chabine is light-skinned with African features." In the end, however, an angelic guide made of fire and snow—likewise category-defying, because these elements shouldn't be able to exist in the same being—helps the narrative version of Sofia celebrate her monstrous status.
Sofia footnotes the angel of fire and snow as borrowed from a fellow genre-defying writer, Eliot Weinberger. Those inclined to dismiss works like Monster Portraits as "light" or less-than-literary because they smack of fantasy and science fiction would do well to hit the books before they pass judgment: the endnotes include a dazzling array of sources, from Rabelais to Hélène Cixous, Aimé Césaire to Roland Barthes. The fragmented nature of the narrative, in fact, most often reminded me of Pascal's Pensées, or a complex poet like Ezra Pound or Jorie Graham, as my mind stretched across gaps to fill in the generous intellectual spaces.
Similarly, a tattoo artist shouldn't be dismissed because their art is applied to skin: visually, the detail and inventiveness in these illustrations map more closely to medieval illuminated manuscripts than to crass commercial art. Spend some time with the portraits: the more you look, the more there is to see.
For example, here's Del's interpretation of the category-defying angel from "Nameless":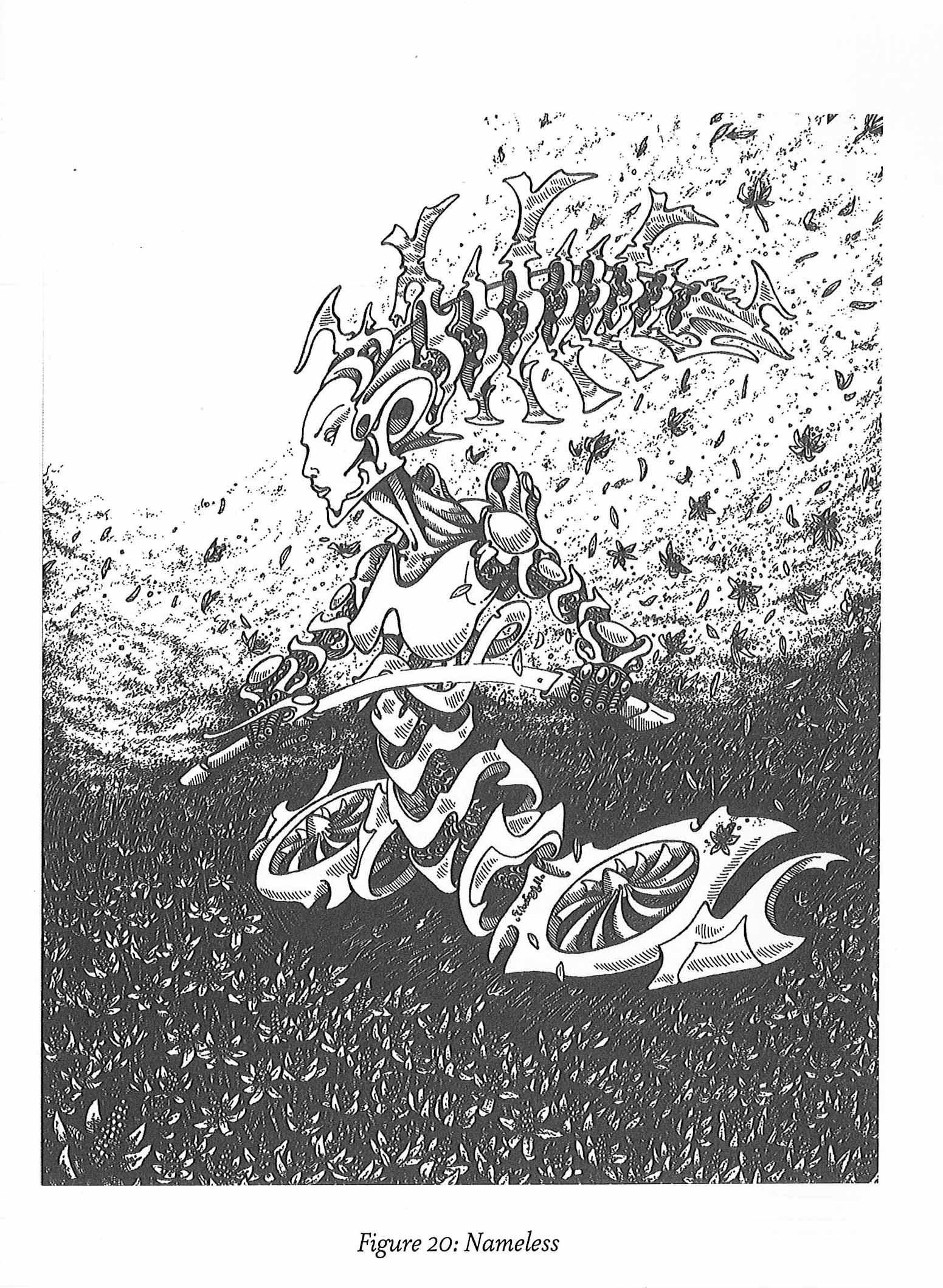 Part woman warrior, part spinal column, part lawnmower; as with any monster, it's hard to tell whether we should be awed, scared, transfixed, or all of the above. But Del showcases the range of his skill with the final "figure" in the book, "Self-Portrait," which makes me laugh out loud every time I see it: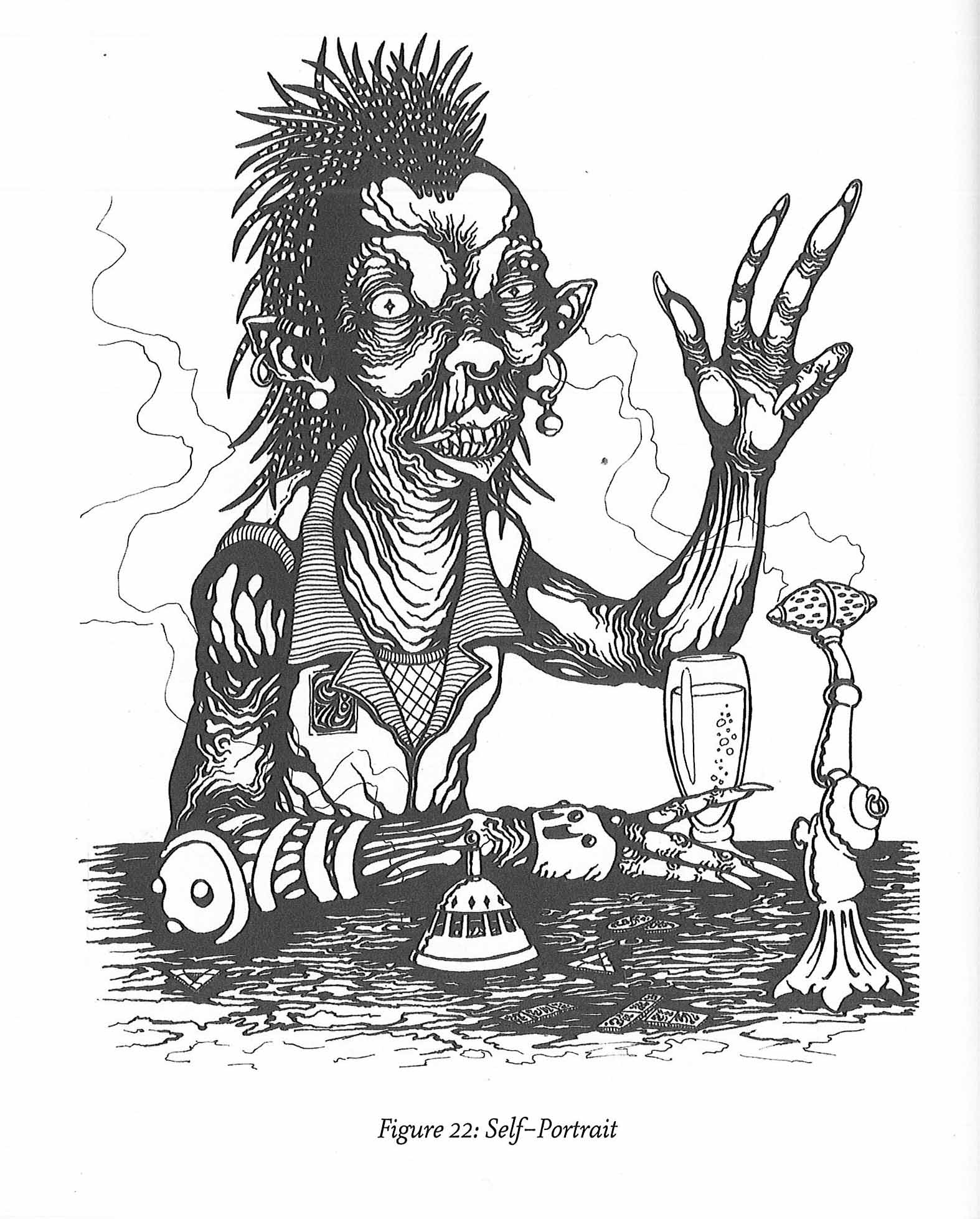 "We went to all the wrong places, my brother and I, and we were wrong within them," writes Sofia in "Liber Monstrorum," the book's penultimate piece, yet here Del invites the reader to join him, no questions asked. I highly recommend you take him up on the offer. Don't be scared. You're in for a remarkable journey.