This post was originally published in "The Elkhart Truth" in October 2014.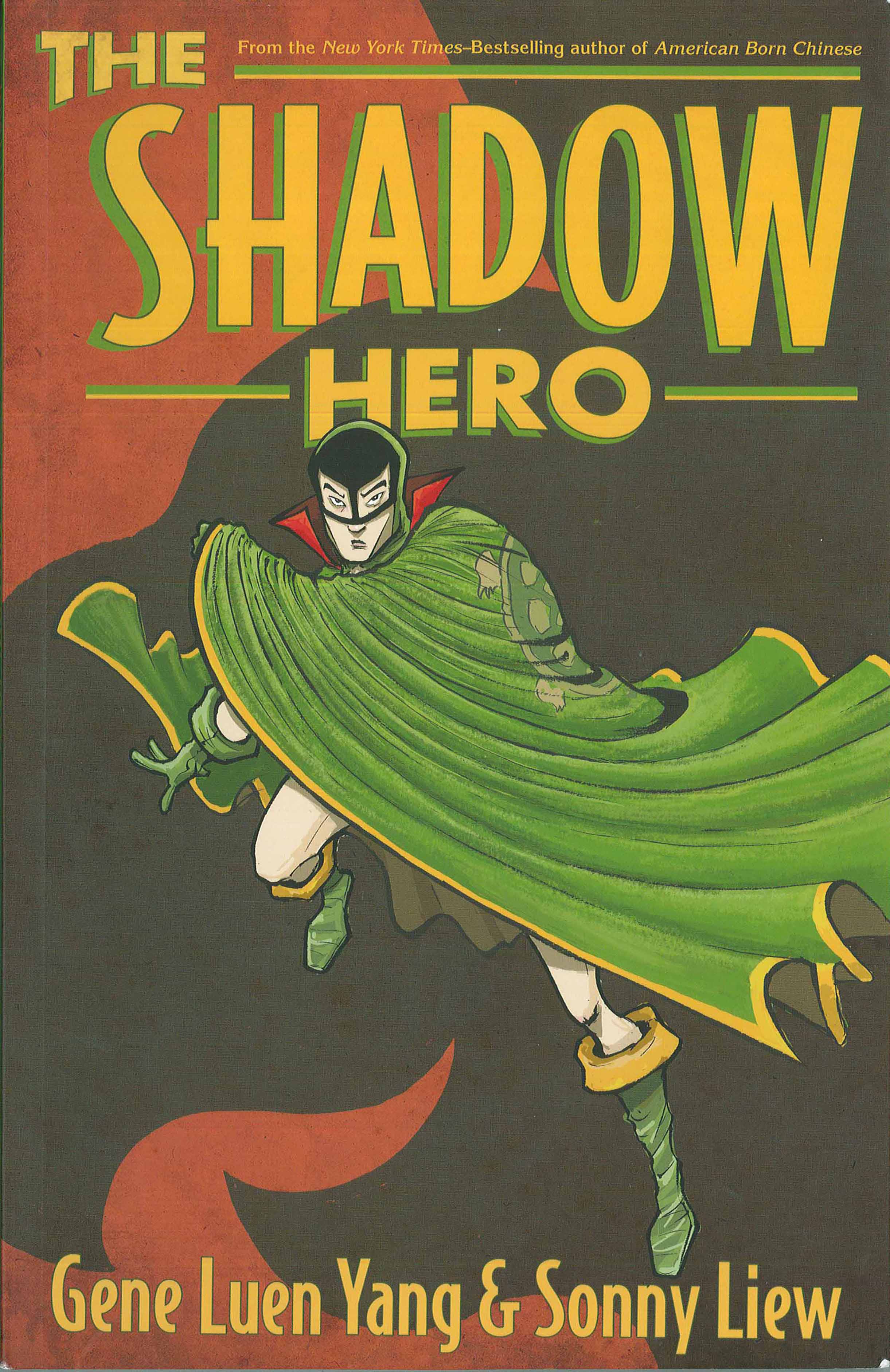 What makes Gene Luen Yang stand out as a comic book creator is his background in education: until fairly recently, he was a high school computer science teacher, who created comics as a hobby. Then "American Born Chinese," which he both wrote and illustrated, became the first comic to be a finalist for the National Book Award in 2006.
Yang's works always aim to educate, whether about immigrant stereotypes in "American Born Chinese" or the complicated history of the Boxer Rebellion in his more recent "Boxers & Saints." (You can read my review of "Boxers & Saints" in the Commons Comics archives.) His newest work, "The Shadow Hero," a collaboration with Malaysian-born illustrator Sonny Liew, is a prequel to the short-lived "Green Turtle" series from the 1940s, and closes with an essay about the original series, as well as a complete reproduction of the first issue.
But since some readers, especially of comics, tend to associate "educate" with "zzzzzzz" or "too many words," let me assure you: "Shadow Hero" is not just smart and instructive, but also visually striking, action-packed, and often surprising.
Since my last post was about comics for very young kids, I should note that "Shadow Hero" is written for teens and older. As with a lot of superheroes, a violent family tragedy catapults Green Turtle into maturity and responsibility—as well as into a vaguely silly costume that needs a few revisions before it settles into a final form.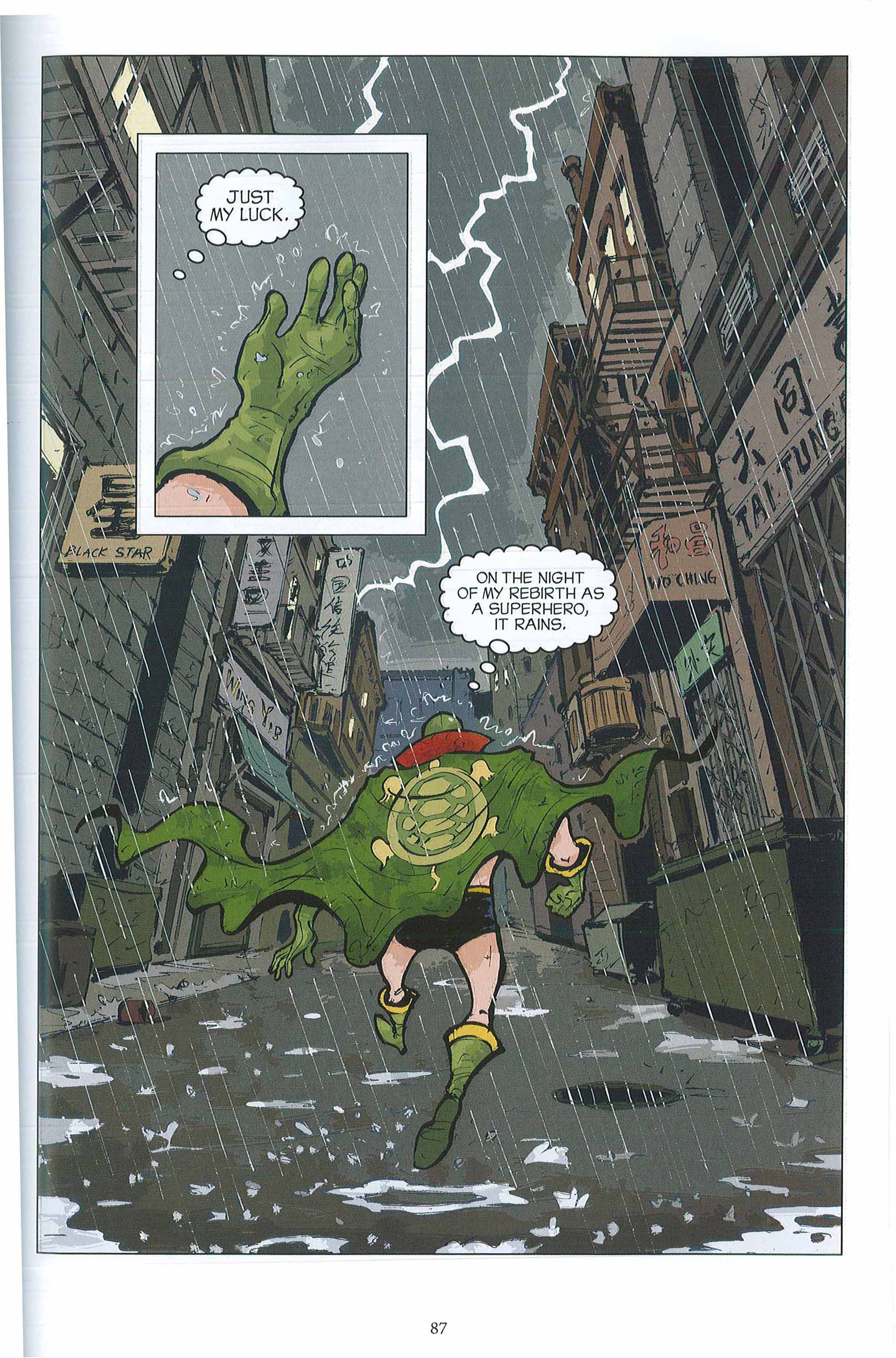 Longtime fans of Yang's solo projects—including myself—might have a hard time letting go of his illustrations, especially his bold lines and simple yet expressive faces. Images like the scene above, however, show what Liew can bring to Yang's expert storytelling: nuance and atmosphere that ramp Yang's writing up to a superhero-worthy level of drama. Liew also expertly brings action to life on pages like this: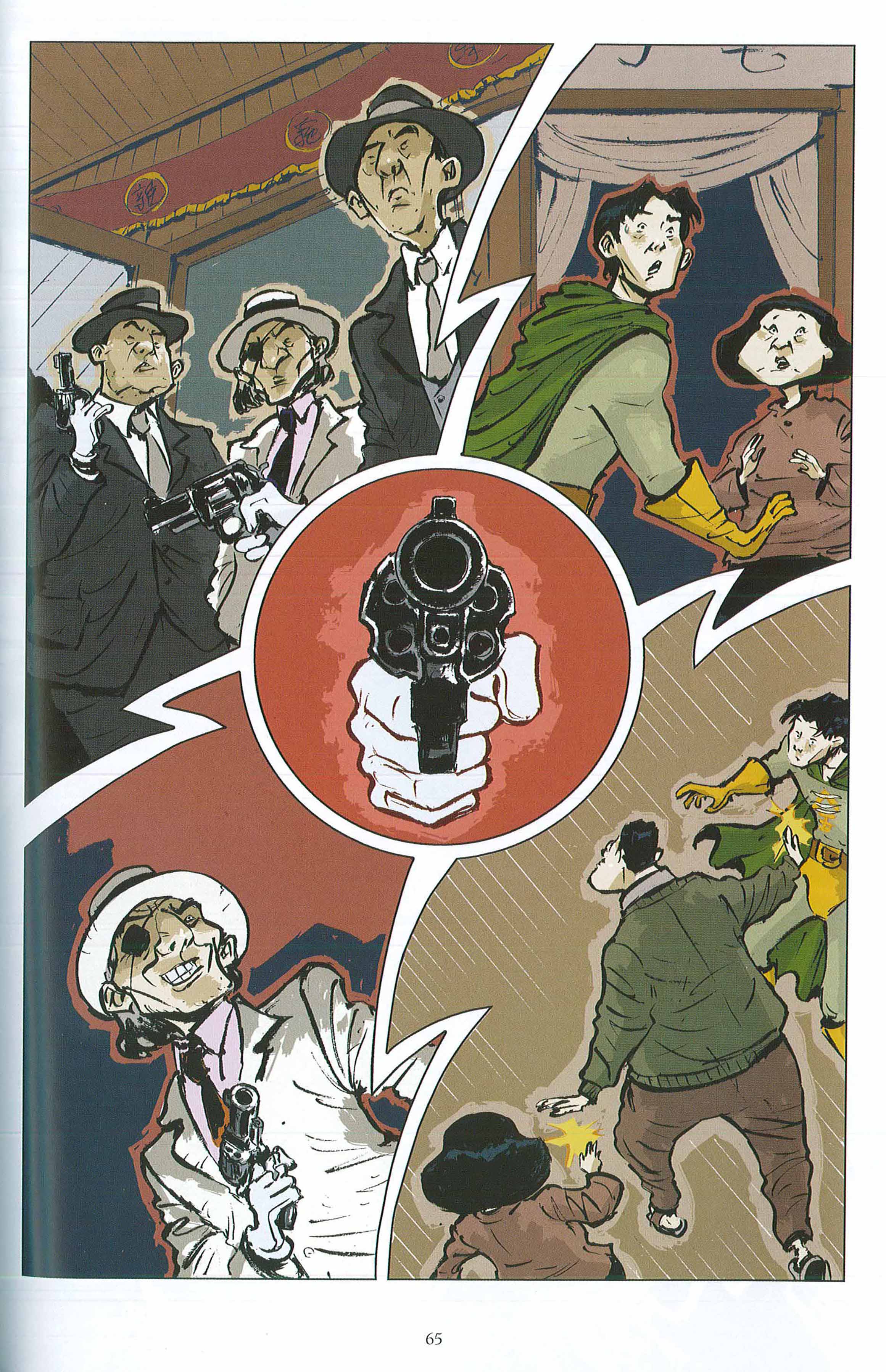 Already striking in its composition, the use of color in this montage—on the bottom right, for example, where those little explosions show the good guy pushing away his wife and son—makes it clear Liew is not just an illustrator, but an equal partner as storyteller with Luen Yang.
Drama and action throughout the book are well balanced with really funny dialogue, which frequently pokes fun at the suspension of disbelief built into superhero comics. The Green Turtle, for example, continually squabbles with his ancient Chinese protective spirit as if they're a long-married couple. This scene shows the soon-to-be Green Turtle's mother meeting her first superhero, the Anchor of Justice: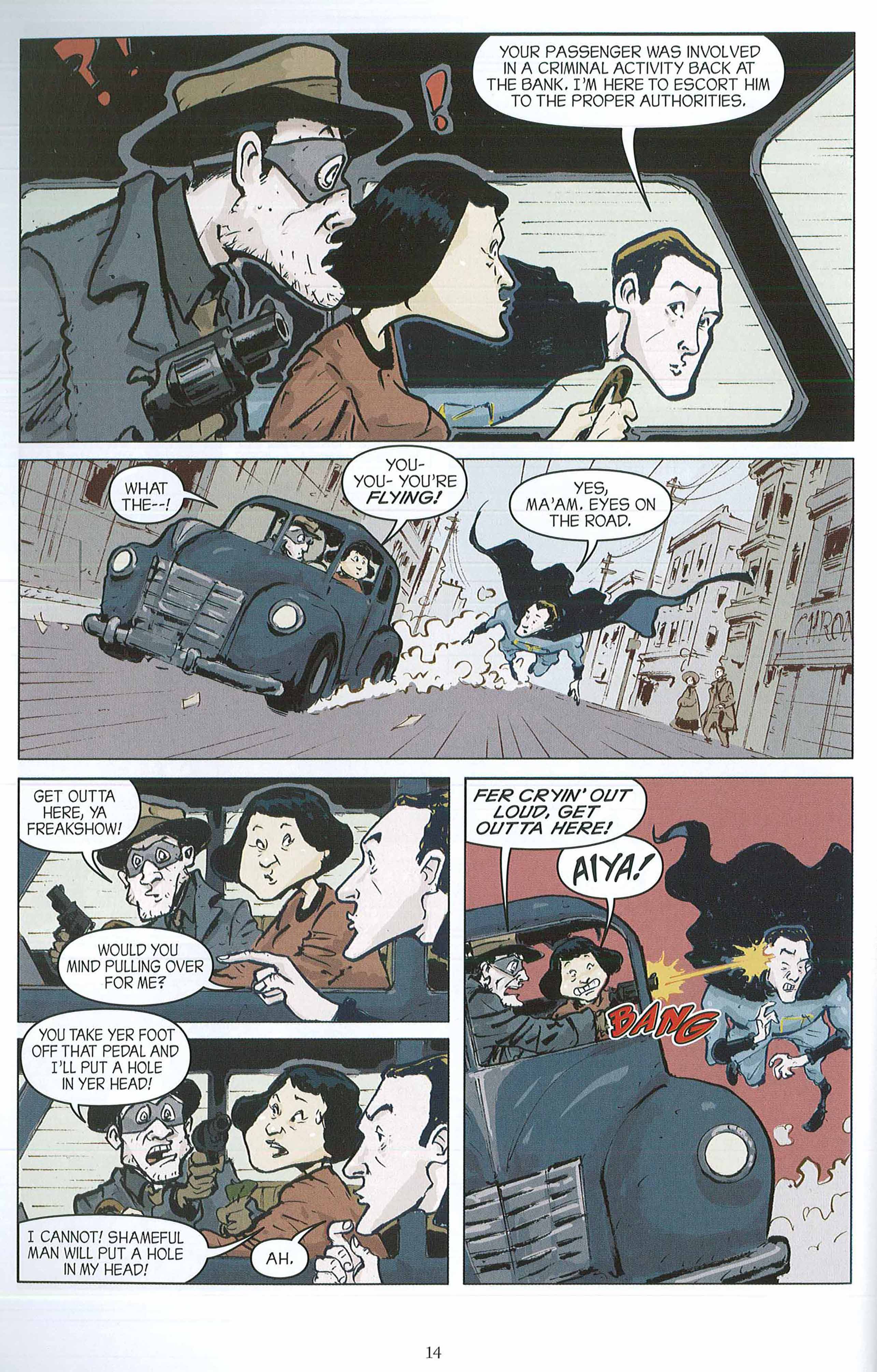 The original Green Turtle series was canceled after a few issues. As Yang notes in his essay, although the series was created by a Chinese-American working to subvert stereotypes, it was a wartime publication, and its representations of Japanese characters line up with the worst caricatures of the US propaganda campaigns. Recreating the series is a touchy endeavor, but Yang's expert pen shows the worth of revisiting and rewriting characters like these, rather than banning them or sweeping them under the rug.
Here, for example, when a local detective on Green Turtle's side apologizes for a racist comment he made, he is also apologizing for a long string of precursors in US comics, characters who mean well but can't fully do good in the world until they acknowledge their own flaws.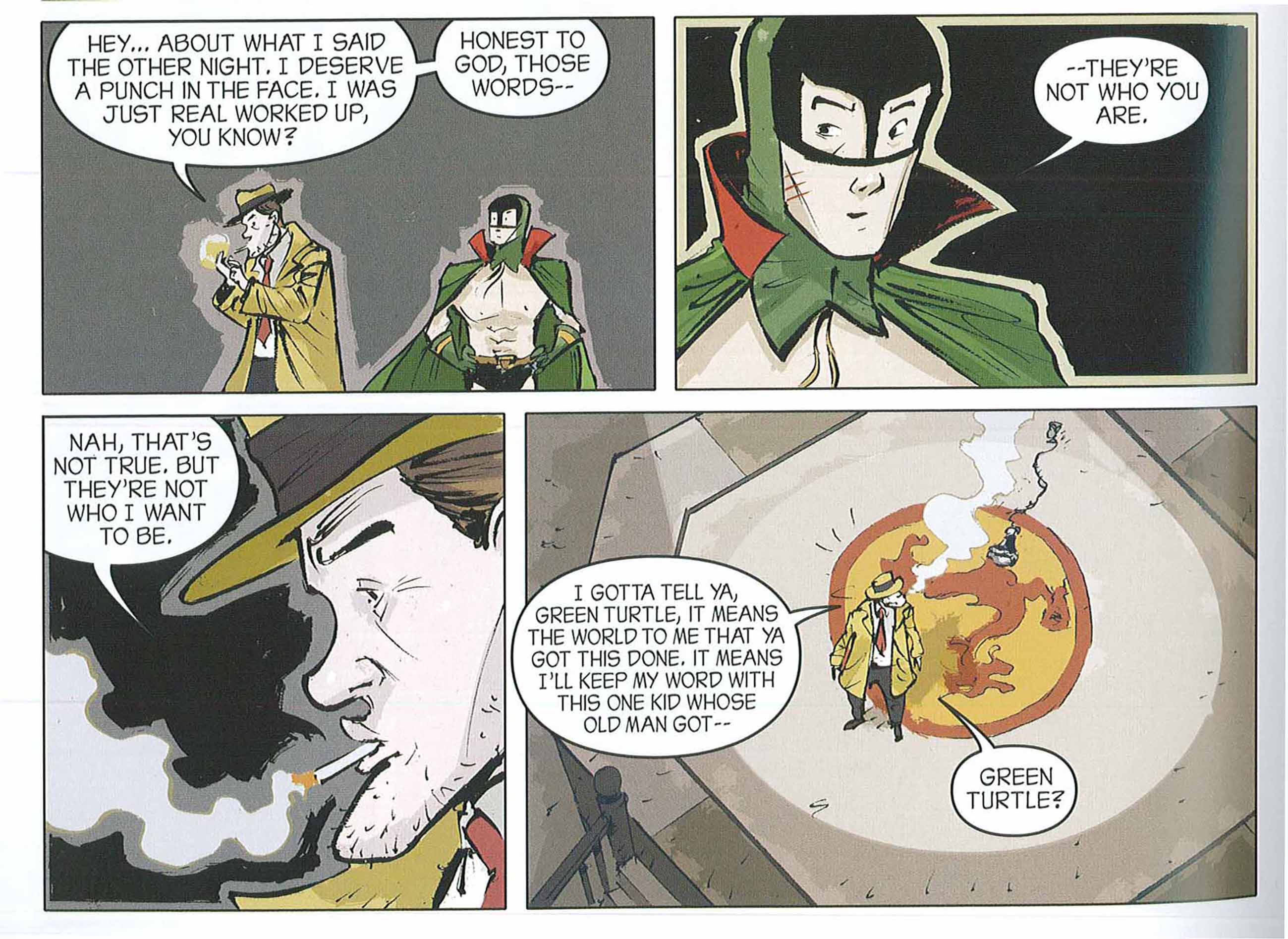 My subtitle for this blog is "the Real Golden Age"—meaning now. The original Green Turtle series ran during what comics historians have named the Golden Age of comics, when comics production was exploding, and when it was an oddity for a Chinese-American to create and write a series in an industry dominated by white men. "The Shadow Hero" is clearly a tribute to the Golden Age in both story and image, but also a critique: with a few notable exceptions, the Golden Age was fueled and controlled by a monoculture. Even the original Green Turtle, a breakthrough in many ways, never shows his face, most likely—as Yang speculates in his essay—because publishers were afraid that a Chinese-American protagonist wouldn't sell.
It sure sells now. Fans and reviewers alike are clamoring for a sequel—and Yang sounds as if he's up for the challenge. As he explained in a recent interview for the online magazine "Comic Book Resources," "The 1930s and 1940s are so interesting, so vital to what the world has become today. Historical shifts occurred on both sides of the Pacific, and The Green Turtle would be a great way to explore all that." In the meantime, "The Shadow Hero" is a great read whether you're a teenager, an original fan of Golden Age comics, or somewhere in between.