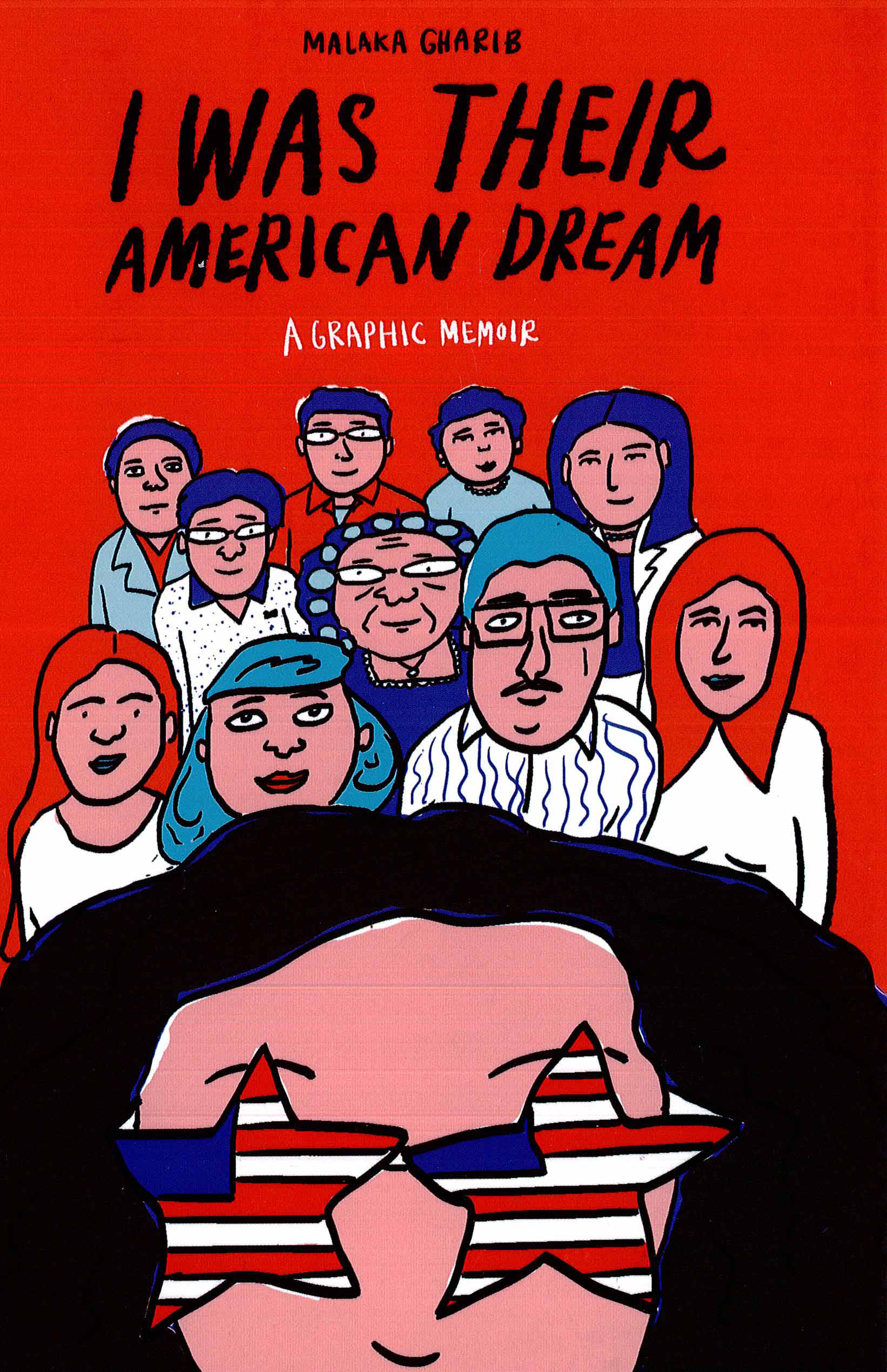 "I Was Their American Dream: A Graphic Memoir," by Malaka Gharib. Clarkson Potter/Publishers, April 2019. 160 pp. Paperback, $16.99. 13 to adult.
Find or order a copy at Fables Books, 215 South Main Street in downtown Goshen, Indiana.
Writer, artist, and correspondent Malaka Gharib sets up the tension of her story from Chapter One: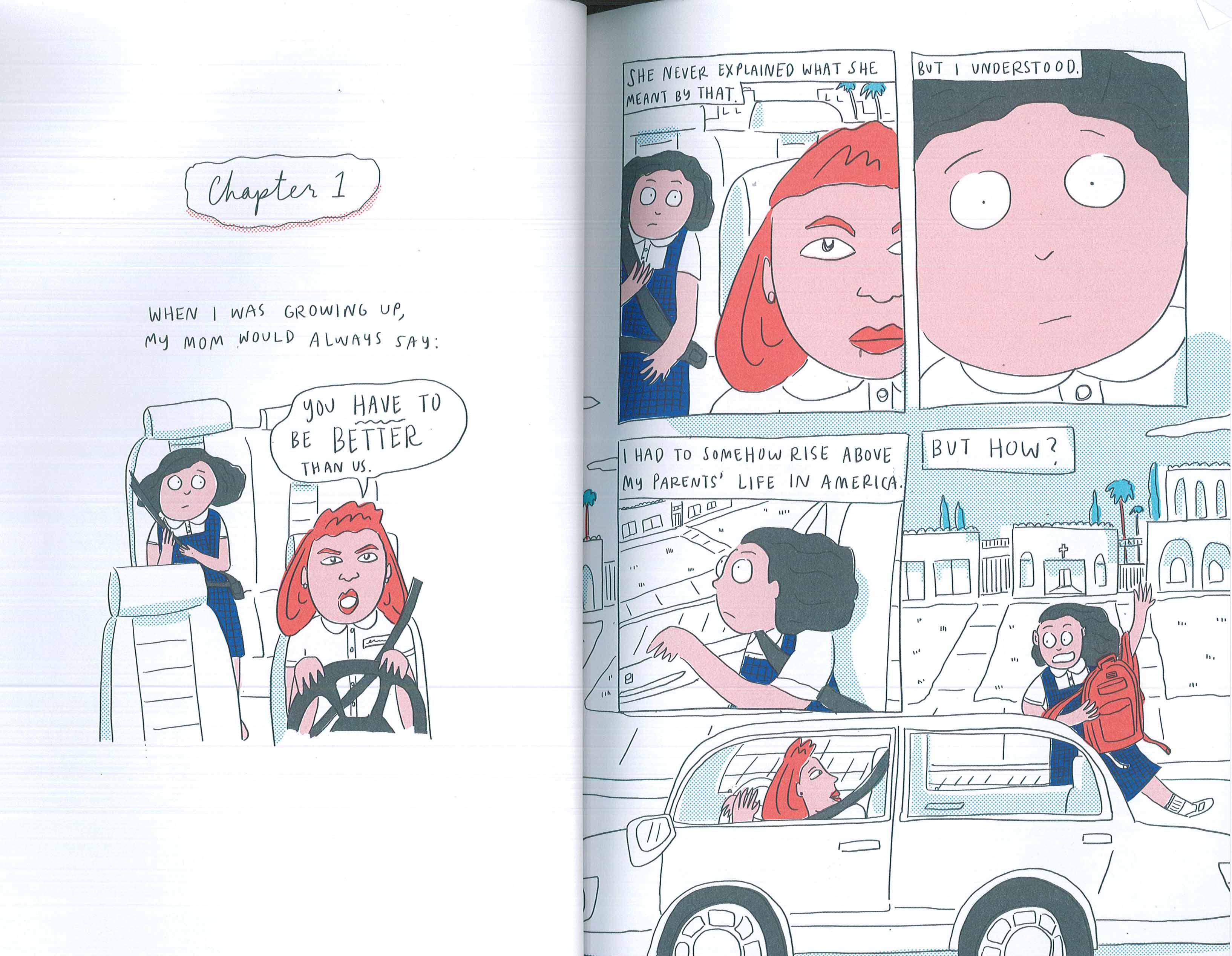 That's a lot of pressure for a kid and her backpack, as that close-up panel in the top right suggests. Gharib's father was from Egypt, her mother from the Philippines, which meant that after they divorced, Gharib spent summers in Egypt with her dad and the rest of the year with her mom's family and her extended relatives in Cerritos, California.
Gharib's school is a paragon of diversity, but her complicated heritage makes fitting in a challenge. As she told David Greene of NPR "what made it hard was that at least all the, you know, Hispanic punk kids could hang out together, and all the Taiwanese 'Magic: The Gathering' kids could hang out together. For somebody who's half – Filipino Egyptian, like, I couldn't just, like, go to those groups." Rather than narrate that challenge in detail, however, Gharib makes a game for her readers, highlighting how her culture at home affected her attempts to fit in at school: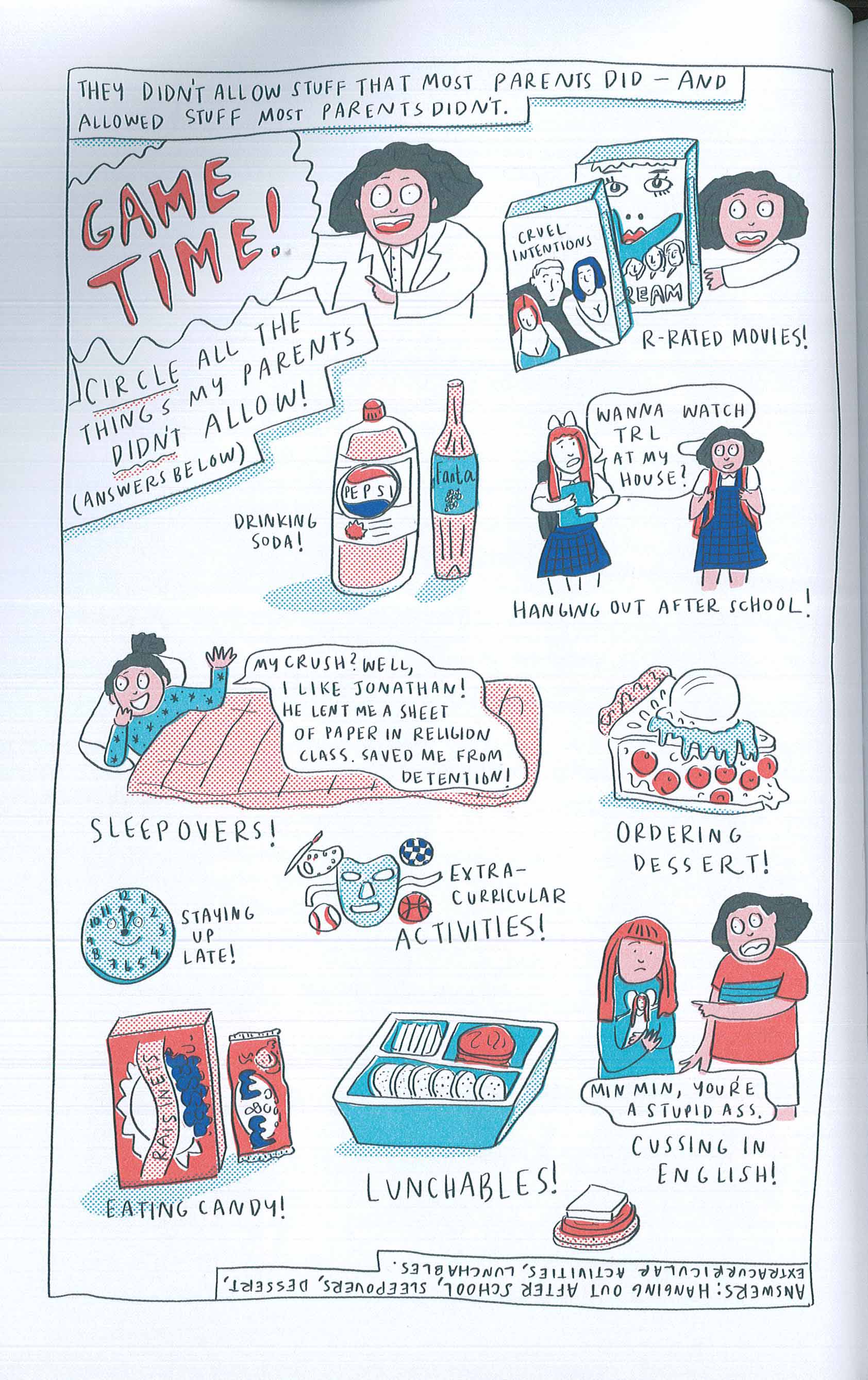 An old-school zinester—zines are do-it-yourself (DIY) magazines—Gharib experiments with myriad DIY forms, luring the reader not just to read about but to participate in her struggles to represent the complexity of her Egyptian-Filipino-American identity. Her first year at college at predominately white Syracuse University is illustrated by a paper doll and four sets of clothes and accessories—"hangin' in the quad," "game day," 'frat-party," and "business school"—all of  which "dramatically transform and alter her personality!" her perky narrator self adds in the "Instructions."
With a similar lighthearted jab at a serious social issue, Gharib represents her frustrations with her first job in an office environment with a game board for "microagressions bingo":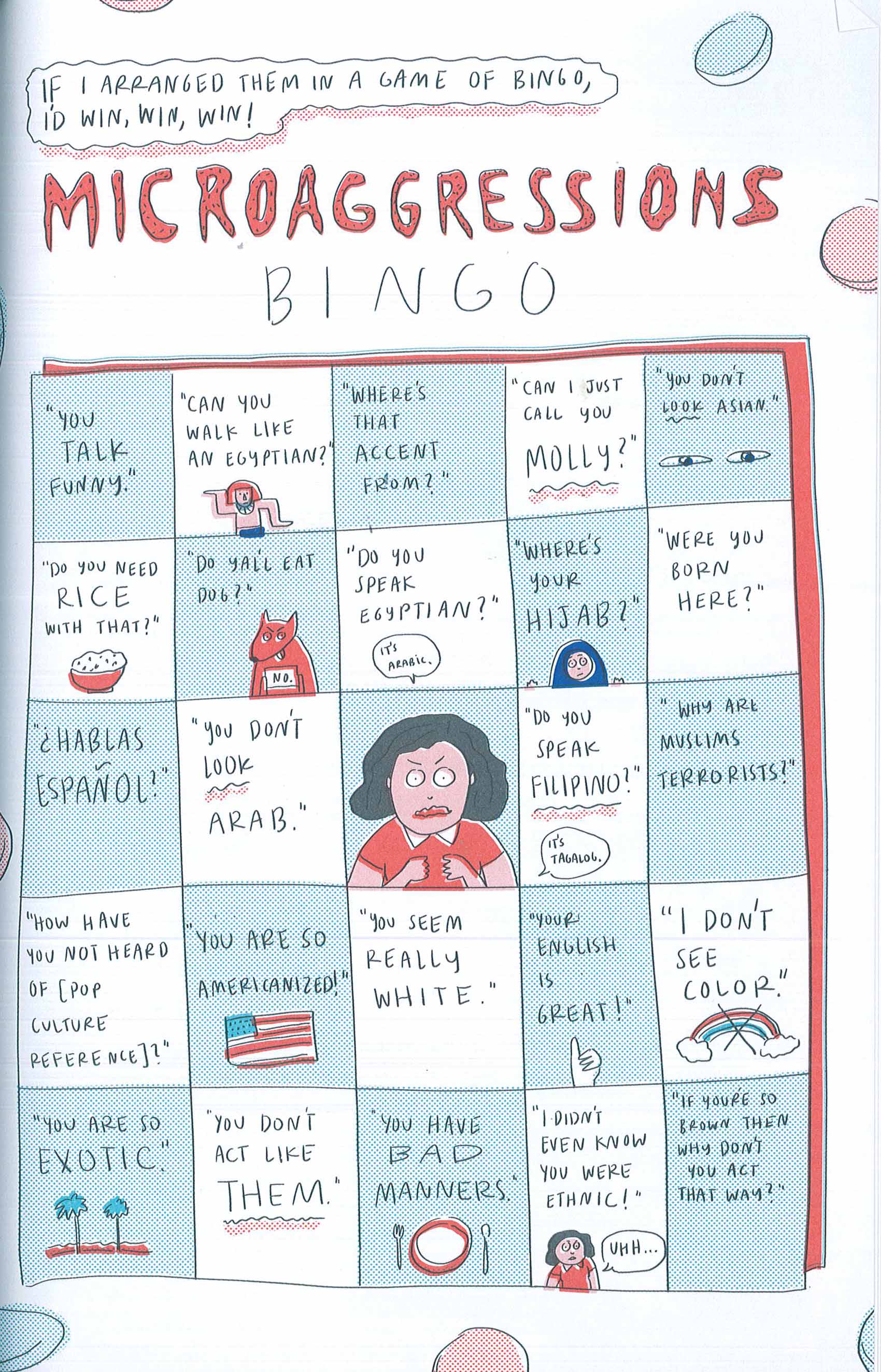 Gharib's disarming enthusiasm simplifies without oversimplifying, educates without chastising. As she told an interviewer at "The Rumpus," "I wanted to bring readers into the story. I wanted them to feel like they were engaging and playing with me. I wanted to put people in a position where they could make choices or think critically about some of the challenges that I've gone through."
"Playing" doesn't mean glossing over, however. Gharib also runs National Public Radio's global health and development blog, "Goats and Soda," so by no means does she hold the world's challenges lightly. Instead, she balances the weight of her reporting by continuing to exercise her talents as a maker, even in short bursts. As she told an interviewer for Seattle's Short Run festival, "I think it's important to be an artist every day. Do it for you. I do lots of different things: I make little zines, but also I leave flowers, I pick flowers, and I tie them up and write a letter or small note, and I leave that out on the bus or at a bus stop, on a lamp post." Follow her on Instagram, and be treated to the likes of a Filipino food coloring book and quick, tiny art projects, what she calls "mini-installations," most of which she leaves for others to enjoy.
Gharib's reporter's instinct also shows up in this book, however. At one point she gauges her friends' reactions to the question, "What are you?" a question she used to love because it gave her a chance to talk about her complicated heritage, but a question that many of her friends see as fraught and intrusive.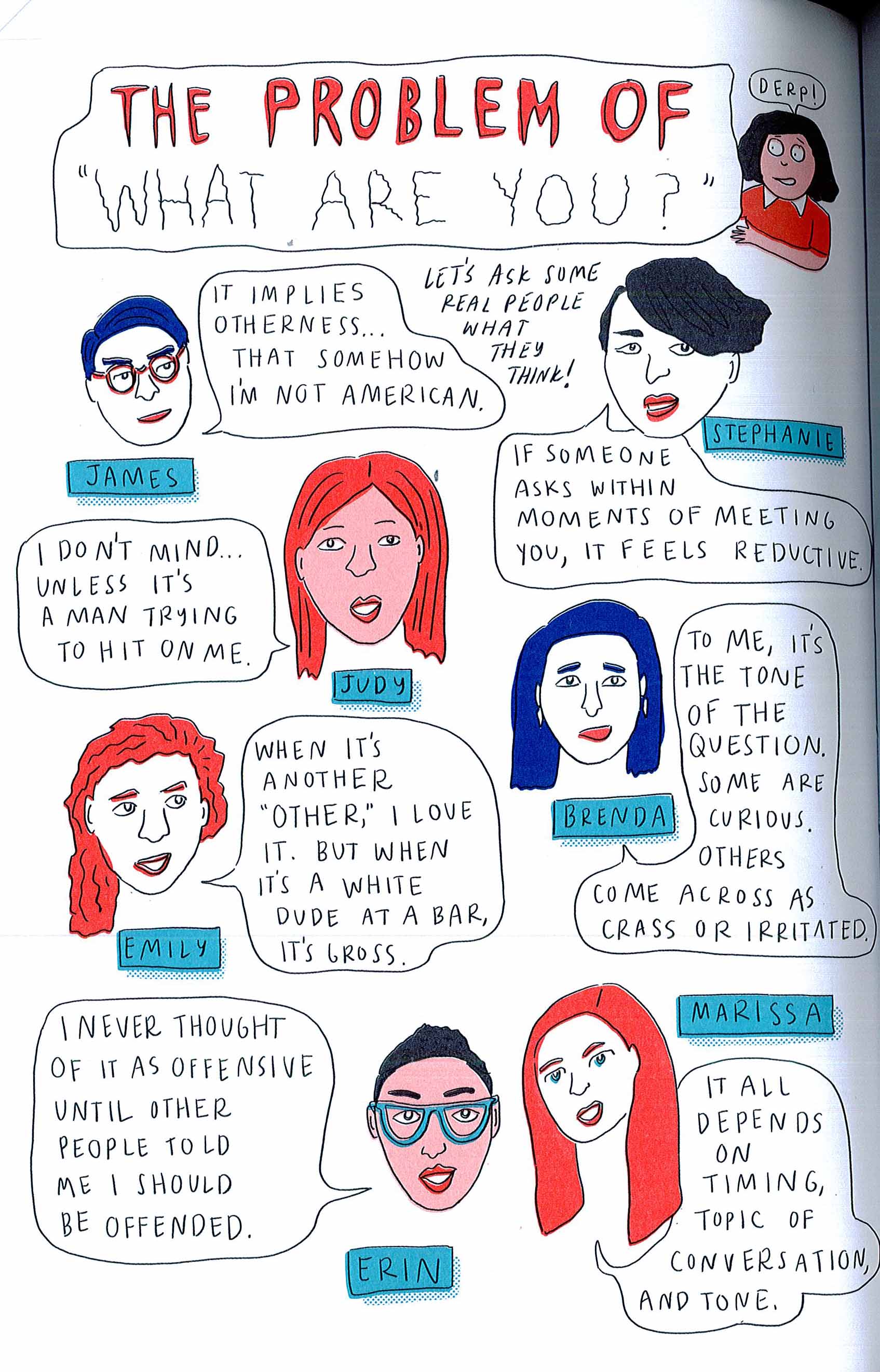 As Gharib told "The Rumpus," "I wanted to reassure people of color who grew up in this country that their story isn't insane. I think that my story, you know, while it is unique, it's the story of many first-generation immigrants." Gharib may not have taken on her parents' American Dream, but this red, white, and blue book makes clear that she took their edict seriously as she began to shape a dream of her own.