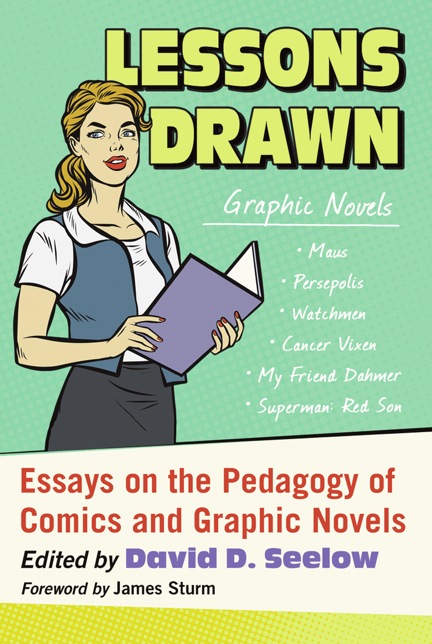 Here's a re-post from 2014 about "Goshen Graphix II," a book that Goshen College students from my Graphic Novel class released on PinchPenny Press, a project of the English Department at GC.
Drawings from some of those students, as well as students in subsequent classes, are included in an essay of mine about teaching comics that just came out in "Lessons Drawn," a collection of scholarly essays edited by David Seelow.
Also keep an eye out for my co-edited book, with Hussein Rashid, "Ms. Marvel's America: No Normal," which just went into production, and should be out on University Press of Mississippi later this year.
If you want to play around with drawing your own comics, there are lots of how-to books around now, but I especially recommend the books of Lynda Barry, one of the masters of demystifying and democratizing comics.
Stay tuned toward the end of May for a review of a new "picture novel," "Clyde Fans," from comics master Seth,  just out on the Canadian press Drawn and Quarterly.
Originally published on GoshenCommons.org on April 1, 2014
April has turned out to be a great month for comics in Michiana. First of all, Gene Luen Yang, the creator of "Boxers and Saints," which I reviewed back in December, will be speaking on Thursday, April 10, at noon at the Festival of Faith and Writing in Grand Rapids.
Yang is not only a master of his craft—his book "American Born Chinese" was a finalist for the National Book Award—but also a rare combination of super smart, super successful and super approachable. In other words, this is a presentation not to miss.
If the drive to Grand Rapids is too far, however, you can meet some local comics artists at the release party for "Goshen Graphix II" this Friday at Better World Books at 6 p.m.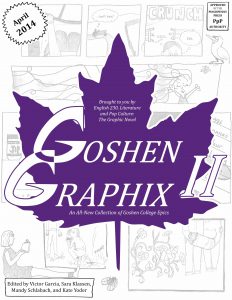 "Goshen Graphix II" is an anthology written, illustrated and edited by students from my May 2013 class "The Graphic Novel" at Goshen College. Here are just a few of the narrators you meet in the book: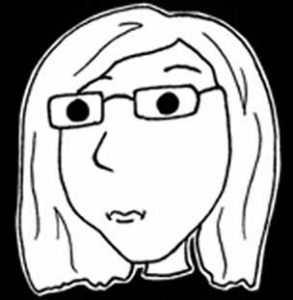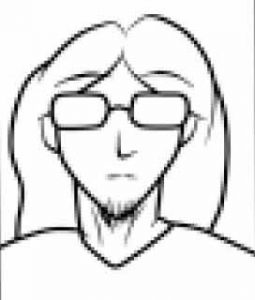 Images courtesy of Mandy Schlabach, Emma Gerig, Kate Yoder, and Victor Garcia.
As the narrator sitting on the dinosaur explains in the book's introduction, there's a lot of debate and discussion behind the title of the anthology—not just in our class, but among writers, artists and critics devoted to the genre. These stories aren't "graphic novels," despite the class's title: they're technically short memoirs, or "graphic narratives"—but the latter term is pretty clunky for both book covers and course catalogs.
Works like this also don't fit the traditional definition of "comics": in general, they're more "literary," which doesn't mean that they're "better" than comics, but just aiming for goals closer to those of a novel than a mass-market comic. The students chose "graphix" not just for the catchy alliteration with Goshen, but also to reference the underground "comix" movement of the late 60s to mid-70s, a movement of self-published works that likewise chafed against the categories that comics and their rich history had already put in place.
No worries about lengthy diatribes about terminology at this release party, however. A handful of the artists have each chosen one page to discuss, and will talk for a couple of minutes about just how many artistic and narrative choices go into creating a single page. In short, you'll get a crash course in how to appreciate "graphic novels" and comics, and if you're interested, how to try your hand at creating them yourself.
One thing I love about this book—and about all of my students' work in this class, whether or not we were able to include it in the anthology—is how they illustrate the process of discovery: you're constantly surprised as a reader, because you can see the artists surprising themselves as they try out new ideas and techniques.
What I love most, however, is the sheer breadth of styles and stories. You'll encounter plenty of the action and romance that you expect from more traditional comics: fight scenes,

suspense,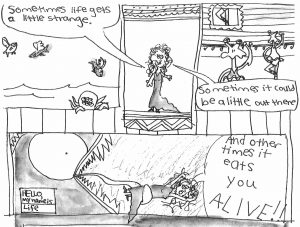 and young love—for a tractor: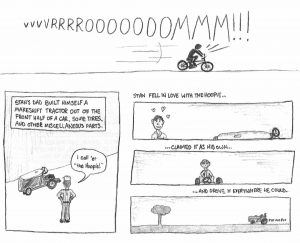 Images by Victor Garcia, Annabeth Tucker and Sam Smucker.
You'll also run into some elements you might not expect in comics (unless you're a regular reader of this blog): recipes,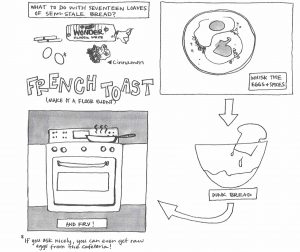 maps,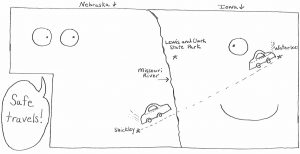 philosophy,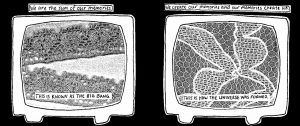 and tiny miracles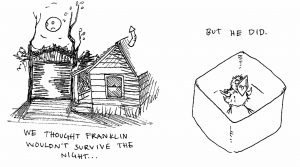 I hope to see you there Friday, but if you can't make it to the party, you can still pick up the book at Better World Books in the coming weeks, or via Goshen College's English Department at english@goshen.edu.
And as always, the best place in Goshen to feed or develop your own comics habit is Better World Books in Goshen, Indiana.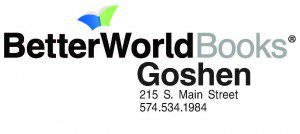 See you in two weeks for another story of grand talent that begins with local energy, community and creativity, Ed Piskor's "Hip Hop Family Tree":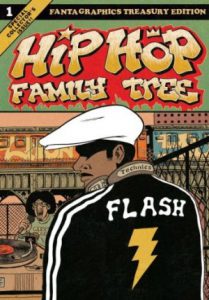 Image from boingboing.net.