"Department of Mind-Blowing Theories," by Tom Gauld. Drawn and Quarterly, April 2020. 160 pp. Hardcover, $21.95.
Thanks to Fables Books, 215 South Main Street in downtown Goshen, Indiana, for providing Commons Comics with books to review.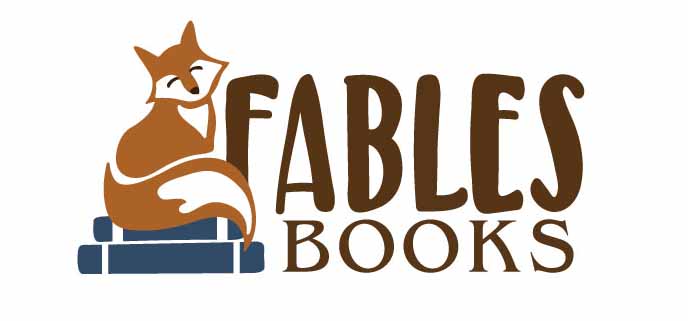 COVID-19 PROTOCOL: Please wear a mask as required by local mandate, and follow store guidelines. You may enter at either the front or back entrances. High risk customers can still make browsing appointments before or after hours, and all customers can continue to order online at fablesbooks.com, over the phone 574-534-1984, or via email fablesbooks@gmail.com.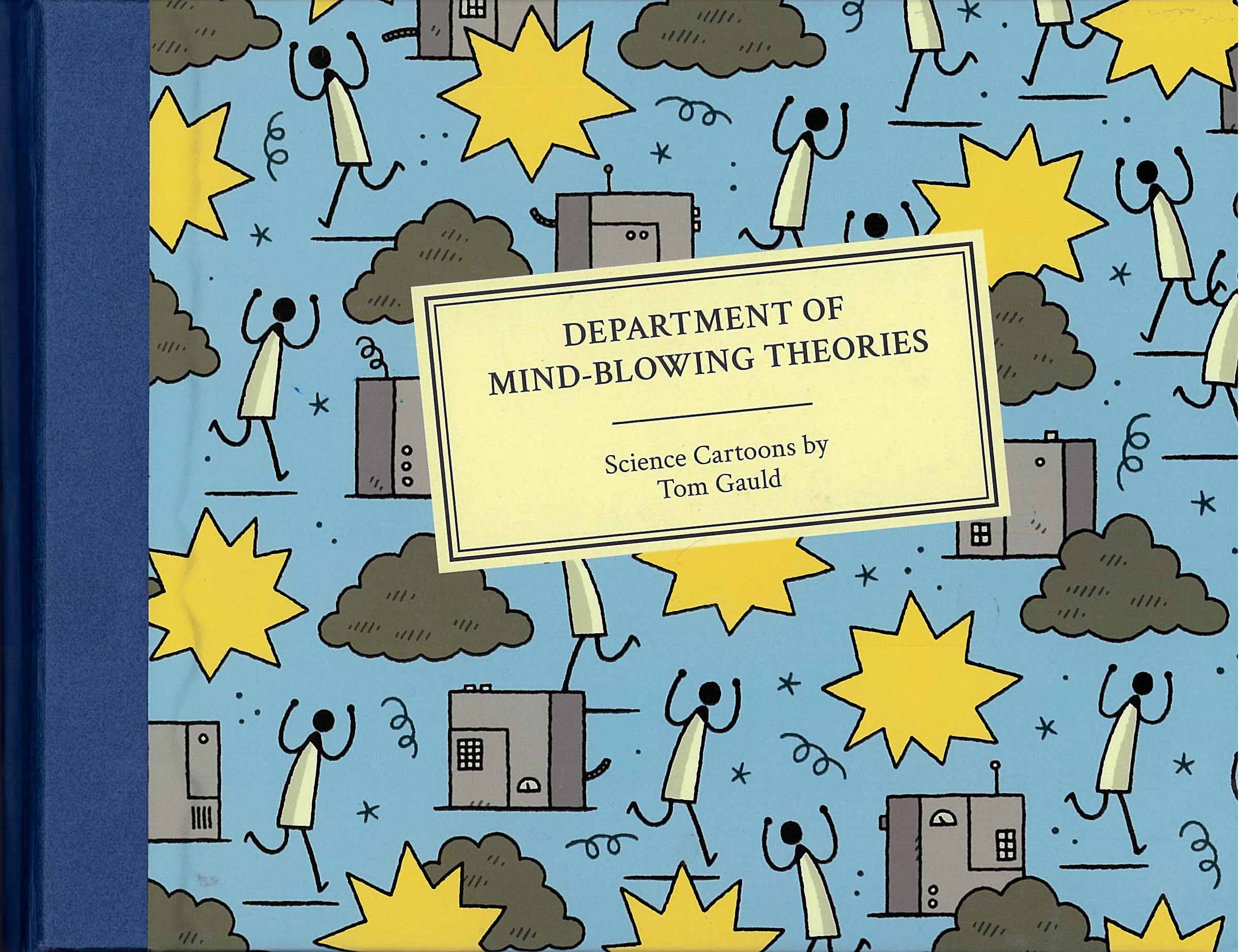 This week I'm reviewing a collection of cartoons from the British science and technology magazine "New Scientist," so let's start with an equation:
The dark yet whimsical illustrations of Edward Gorey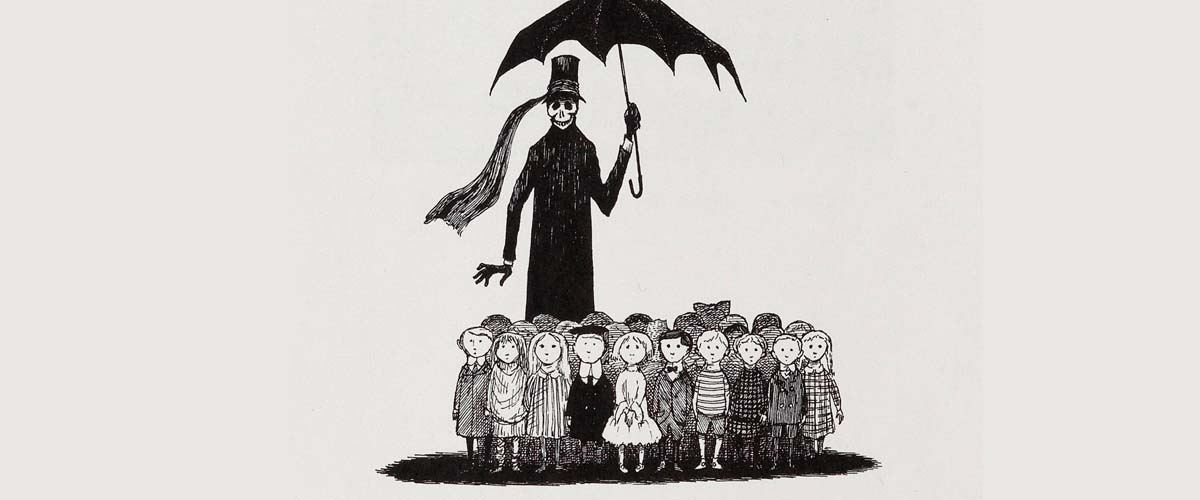 plus
the silly brilliance of Gary Larson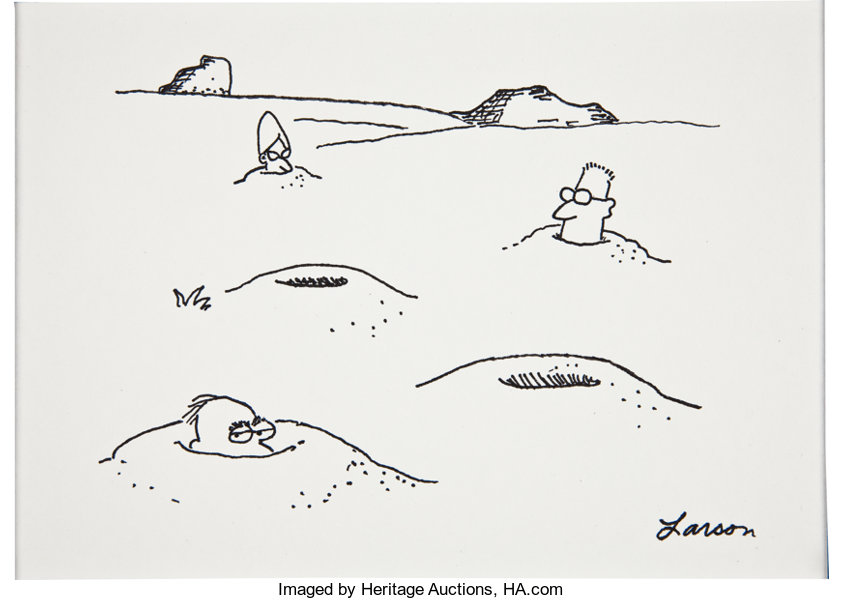 equals comics like this one, from the new collection of Scottish cartoonist and illustrator Tom Gauld: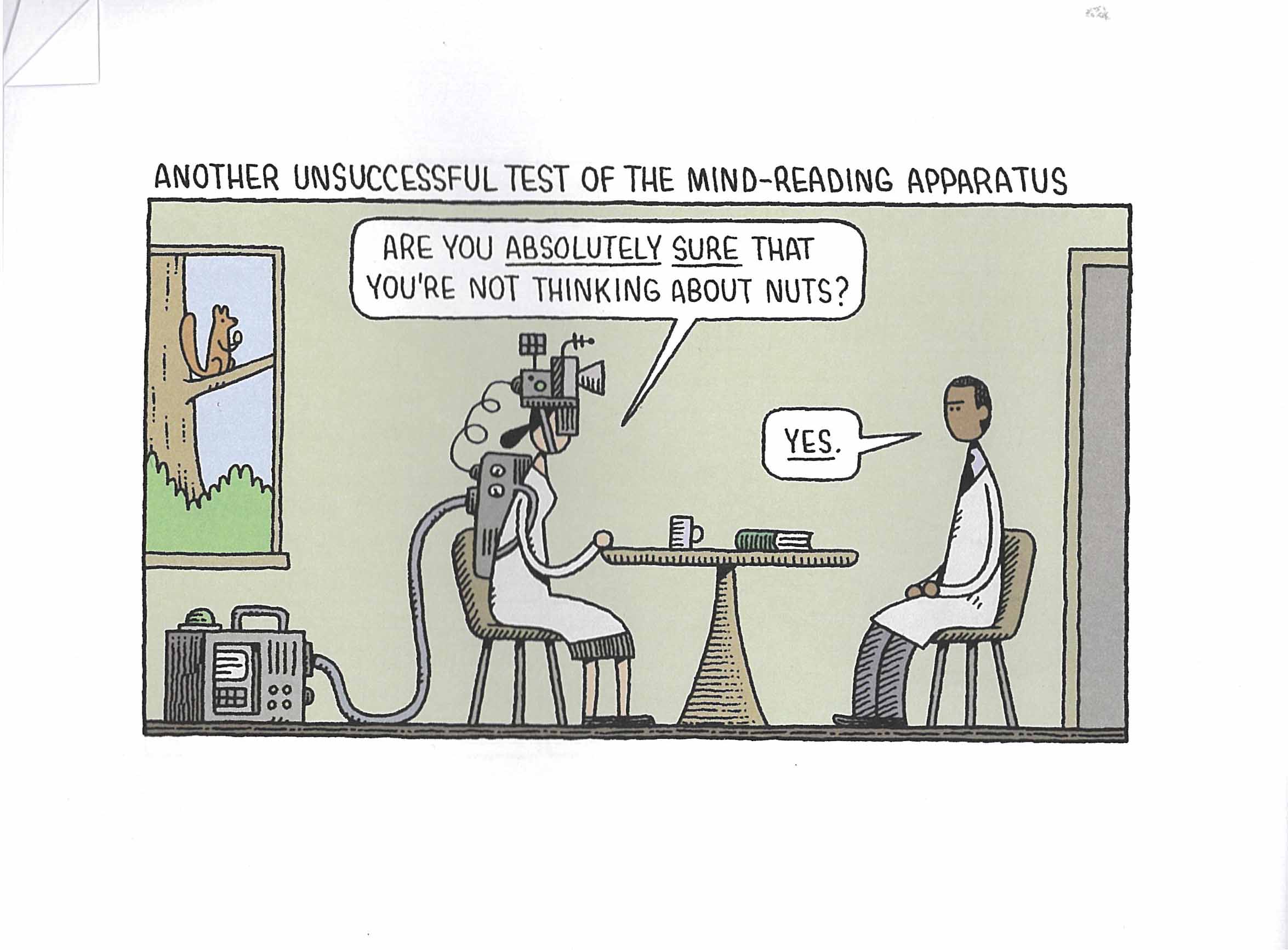 Gauld's "Department of Mind-Blowing Theories" casts a satirical eye on the realm of science—and scientists, along with the rest of us, could probably use a good laugh these days.
I'm not skirting the tension of the upcoming week here in the U.S.: please vote if you haven't yet! But since so many of us have already voted, and those of you who haven't will likely be waiting in a crazy long line, here's a sanity-saving diversion—also useful if you're a pollworker or vote counter on a lunch break.
That said, these cartoons are too smart to be merely escapist. Gauld recognizes the worth of a good laugh in the midst of difficult times. As he recently explained to Steve Scher, of Seattle's "In the Moment" podcast, at the start of the pandemic, he "kind-of felt maybe my job at that point was . . . to try and give a more general, humorous, light take-your-mid-off-it" approach in his work. It took him a couple of months to even reference lockdown in his weekly literary comics for "The Guardian," but when he did, he took the brilliance of this oft-shared gem,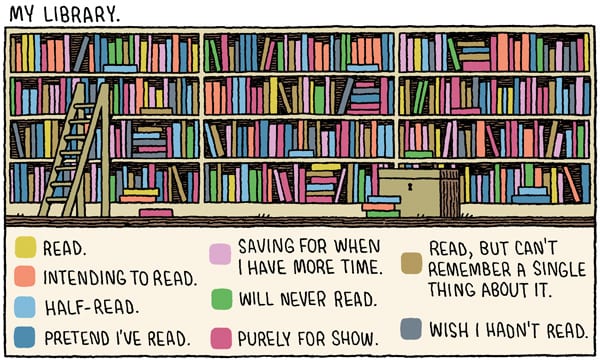 and riffed it into a brief respite from the deadening reality of work meetings on Zoom, mapping his office bookshelves and stacks and boxes of books into "books I want to read," "books I ought to read," "books I want people to see behind me on Zoom calls," and "books I now realise even a weeks-long enforced lockdown will not induce me to read." (You can see the comic here.)
Gauld had already made a name for himself as a regular literary cartoonist for "The Guardian" when "New Scientist" approached him for a weekly strip as well. He claims he was insecure about it at first, worried that his lack of expertise might get him in trouble with scientists. It didn't take him long, however, to notice that the similarities between the literary, artistic, and scientific worlds outweigh the differences. As he told "The Comics Journal" in August, "I think I've realized that scientists aren't this other species who . . . will be furious at me for not understanding their discipline. I'm more like them than I thought."
After all, who hasn't made a mistake similar to this one in real life: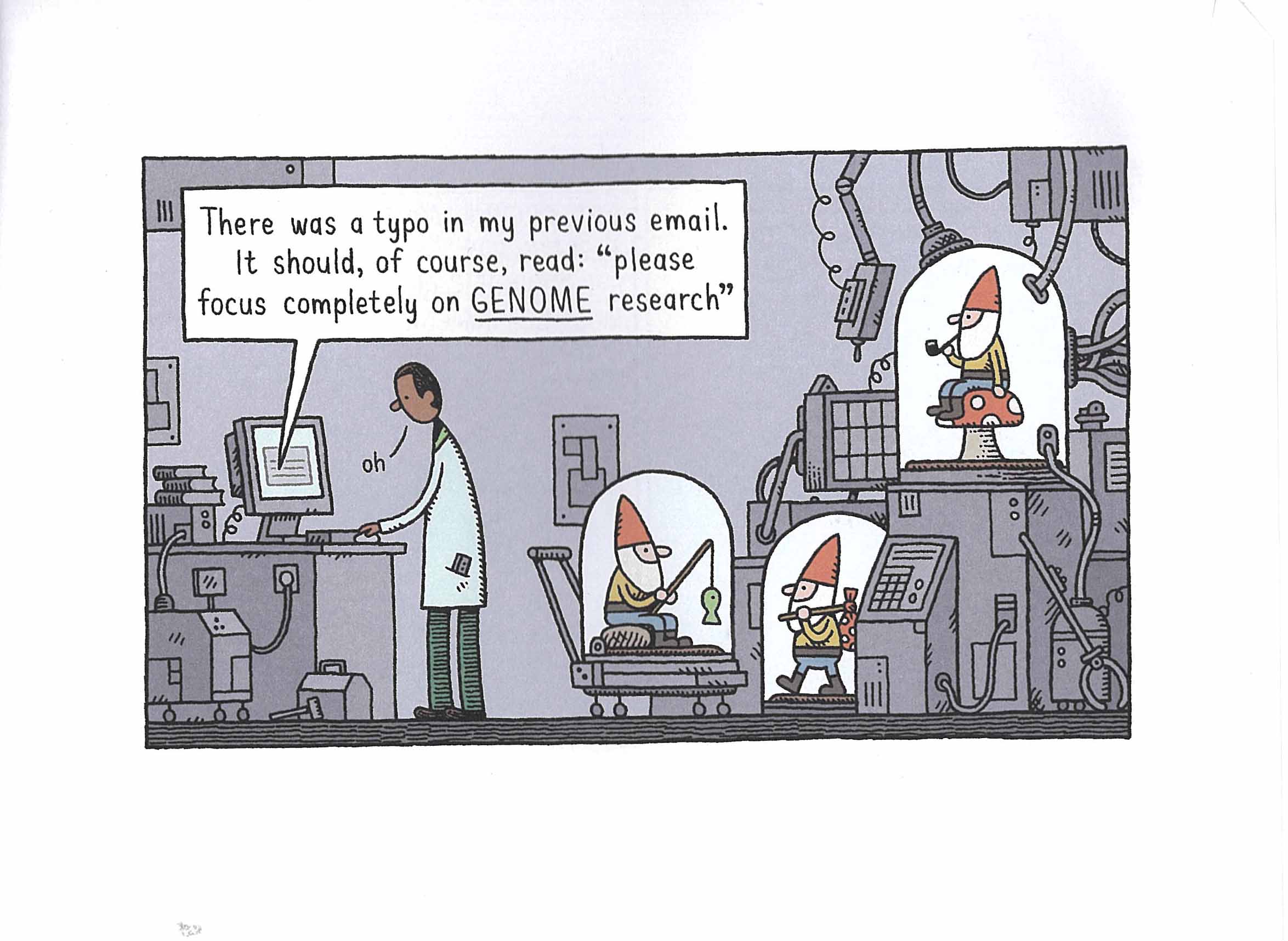 I'm clearly more of an aficionado of literature than science. Nevertheless, the main challenge of reviewing this book was how relatable I found nearly every comic. I started folding tiny dog-ears on my favorite pages, and ended up with a puffed-up accordion of a book, well over half of its corners folded on just the first read. The hardcover binding is already shot because both of my kids, 10 and under, have each puzzled and giggled their way through the book multiple times.
Gauld's most recent work is, in fact, a children's book, "The Little Wooden Robot and the Log Princess," scheduled for release in 2021. And good news for fans of his stories, "Goliath" (2012) and "Mooncop" (2016): Gauld says he's itching to get back into longer-form narratives.
In the meantime, "Department of Mind-Blowing Theories" might be just what we need in our historically divisive times. "I do want to be pleasant and enjoyable," Gauld told "The Comics Journal." "I'm a bit of a coward, I don't want to get into arguments with people or even upset people. Most often the cartoons are teasing people I like: making fun of pretentious writers, who in the end, I actually respect. Rather than angry political cartoons aimed at politicians I hate, which I wouldn't be good at."
You can see that desire for reconciliation—or at least polite interaction—in this single-panel gag:
Or maybe the best representation of the week or so ahead, which promises to be choked with numbers and stats and maps and graphs, is this giddy, three-panel ode to somersaulting shapes, chutes, and ladders that promise a simple world that never was:
Wishing you the delightful surprise of a bunny that resembles Hello Kitty tucked into the next data map you encounter. "WOW!" indeed.