Originally published on GoshenCommons.org April 1, 2014
April has turned out to be a great month for comics in Michiana. First of all, Gene Luen Yang, the creator of "Boxers and Saints," which I reviewed back in December, will be speaking on Thursday, April 10, at noon at the Festival of Faith and Writing in Grand Rapids.
Yang is not only a master of his craft—his book "American Born Chinese" won the National Book Award—but also a rare combination of super smart, super successful and super approachable. In other words, this is a presentation not to miss.
If the drive to Grand Rapids is too far, however, you can meet some local comics artists at the release party for "Goshen Graphix II" this Friday at Better World Books at 6 p.m.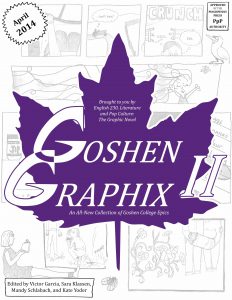 Continue reading "Local Comix: Goshen Graphix II"