Ghost Stories, by Whit Taylor. 120 pages, Rosarium Press, January 2018. Paperback, $17.95.
Rosarium Press provided me with a free online review copy of this book. Thanks also to Better World Books, 215 S. Main St. in Goshen, for providing me with books to review. You can find or order all of the books I review at the store.
NOTE: You can hear Bill Campbell, head of Rosarium Press, speak on Tuesday, March 13 at 7:30 in Rieth Recital Hall on the Goshen College campus. His talk is called "Social Justice in Publishing." Click here for more information.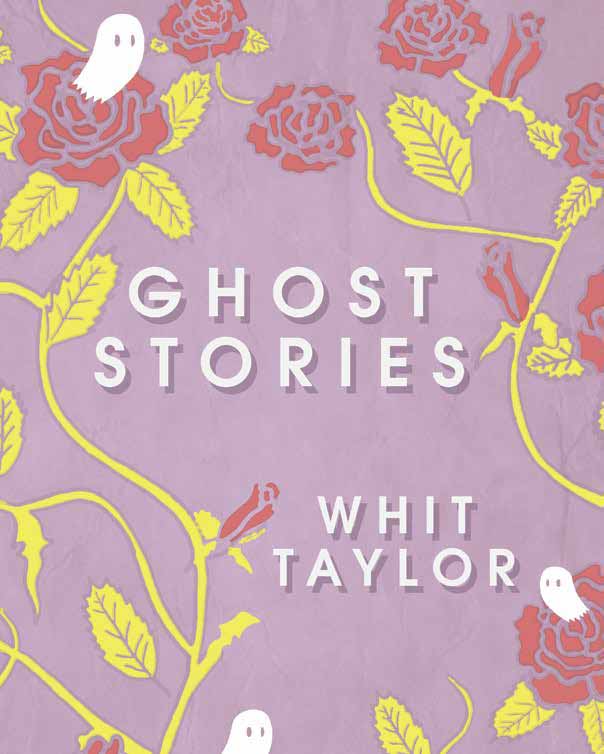 Whit Taylor forged her own path to comics, and it shows in her style: playful yet powerful, you can see the marker lines in the patches of color, and the traces of her unconventional training—anthropology, public health, and film—in her quirky yet emotionally intense stories.
"Ghost Stories," just published in January by Washington D.C.'s Rosarium Press, is a collection that grew out of its first story, "Ghost," which Taylor self-published in 2015.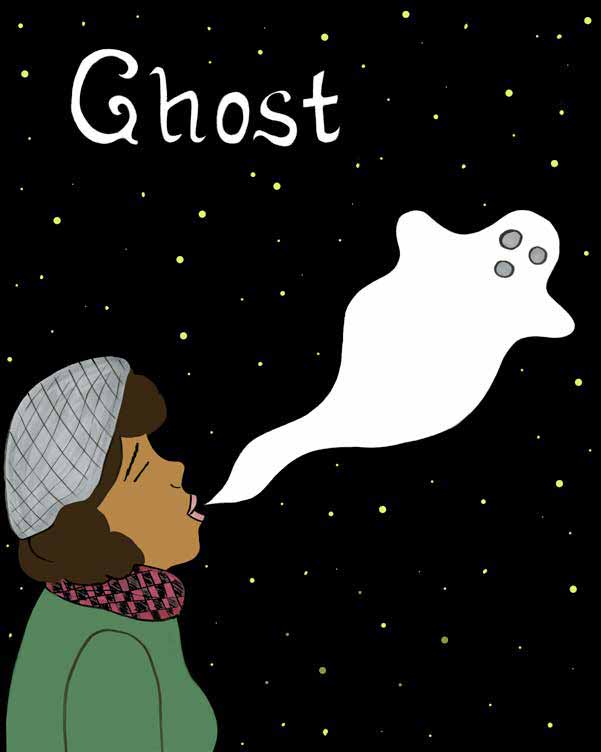 Taylor was initially reluctant to republish and repackage "Ghost": she's been enjoying the simplicity and control of self-publishing, and has racked up a long and high-profile list of webcomics on sites from Upworthy and Buzzfeed to the New Yorker. She doesn't shy away from difficult topics, either, as in two of her most celebrated pieces from The Nib, "What Is Race?" (2017) and "Finding Your Roots" (2016). But as she told Publishers Weekly in January, Bill Campbell, head of Rosarium Press, talked her into taking the leap to a bigger book and a broader audience: "Bill changed my mind when he expressed that this was the type of work that he would want his daughter to read one day."
Even though Taylor has been drawing comics since she was a kid, it took her a while to see it as a viable profession. "I remember picking up a Harvey Pekar book and being like, I didn't know you could write about your own life!" she told Venison magazine. "I also saw Roz Chast lecture about her New Yorker cartoons at RISD [Rhode Island School of Design], and it made me realize that there were women out there making comics, which was quite life-changing."
On the cover of this collection, visible ghosts float out of the flowers, while within its three stories—"Ghost," "Wallpaper," and "Makers"—less visible, more psychological ghosts emerge from unexpected places as well. The first and last stories are told in a similar, simple style dominated by white space, as in this page from "Ghost," about meeting ghosts face to face: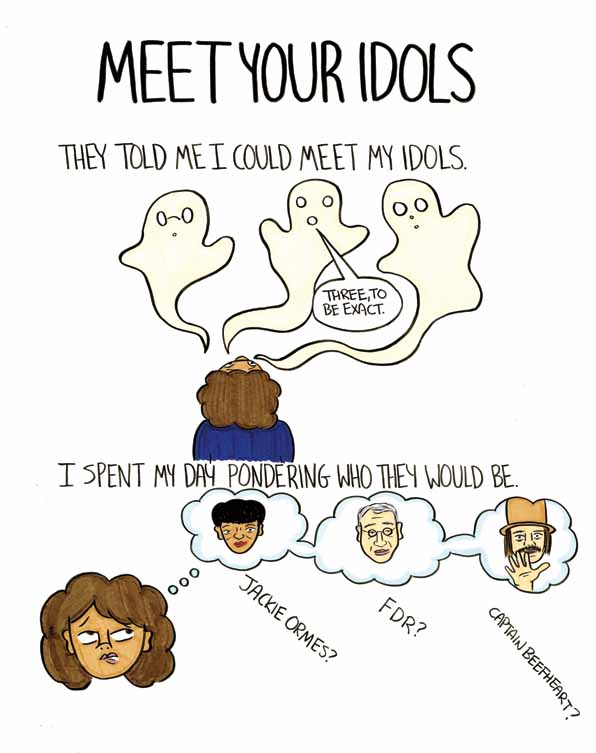 Taylor's narrator ends up choosing Darwin, Joseph Campbell, and Marilyn Monroe, and her conversations and metaphysical "travels" with the first two figures are both funny and enlightening. The narrator doesn't meet Monroe in the end, but her final "idol" closes the story with a particularly timely story based on Taylor's own experience of putting herself back together after a sexual assault.
"Makers," the final story, is drawn and told much like "Ghost," but with panels. This concluding story is even more universally relatable: most of us have grown up and away from friends by surprise or too fast—been "ghosted" by them, as Taylor phrased it in a recent Women Write about Comics interview.

My favorite of the three stories, however, is "Wallpaper," which grounds the center of the book with a very different style. Meditative and poetic, this story alternates a couple of paragraphs of memoir-based fiction with rich full-page patterns, sometimes wallpaper, sometimes food (like pizza and fruit roll-ups), and one time the kitchen-floor linoleum that got ripped up and replaced in her family's new house, and which Taylor frames just the slightest bit cockeyed: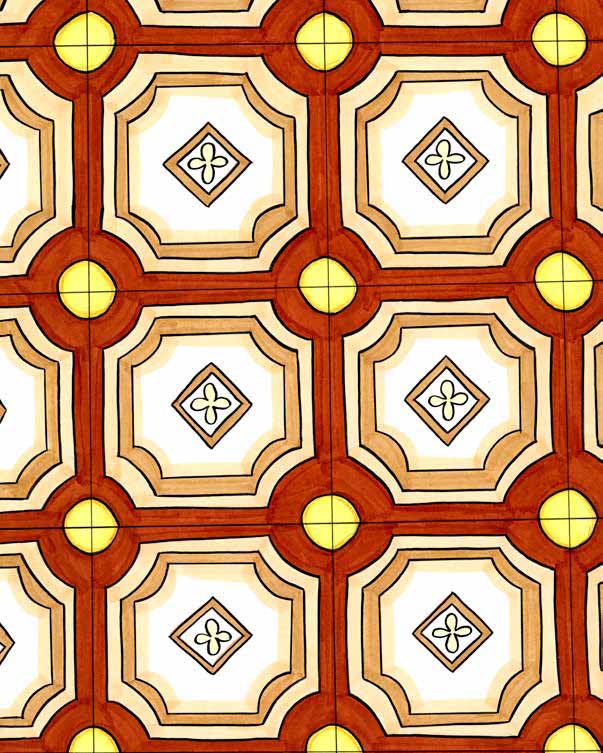 Taylor doesn't make specific reference to Charlotte Perkins Gilman's The Yellow Wallpaper, but the story at times echoes that iconic book, especially when the narrator and her brother find themselves trapped at a B&B in Cape May, New Jersey, surrounded by horrifying wallpaper: "Why did Victorian people like peonies so much?" the narrator asks. "They are so grotesque, like unkempt roses on 'roids."
Searching for the literal and metaphorical ghosts that hold these stories together pulls in the reader as well. In the first story, for example, the narrator explains how "Darwin was always haunted by ghosts of the intermediate species," "ghosts" in this case another word for "missing links." Taylor even "ghosts" herself at one point, when she shrinks down to meet Joseph Campbell:
This page illustrates the opposite of Taylor's current trajectory, however: her presence, especially online, is growing fast. But she's not exorcizing her ghosts entirely, as she explains to her Publisher's Weekly interviewer: "I think that everyone is haunted by something! It's a universal experience that presents itself in many ways, from ex-relationships, to deaths, to coming to terms with former selves."
As a whole, Ghost Stories serves as Taylor's love letter to art and the artistic process. Perhaps the brother of the narrator in "Wallpaper" puts it best when he notes how ghosts can be useful—even the creepy flowered wallpaper has its upside: "Ghosts live between the petals . . . .They're soft, so they make good mattresses." Ghosts can be a challenge, of course, but Taylor reminds us that they also rest at the heart of all the best stories.