Originally published on GoshenCommons.org August 2, 2013
Welcome to Commons Comics, a bi-weekly comics review blog. I'll be reviewing mostly brand new works, as well as some foundational classics. For those of you familiar with today's comics, my expertise lies with what many people call "graphic novels"—works that take books like Art Spiegelman's Pulitzer Prize-winning "Maus" (1986) and Marjane Satrapi's "Persepolis" (English translation 2003) as models to tell longer and sometimes weightier stories than superhero serials tend to tell.
I chose the more general term "comics" for the title of this blog, however, mostly because the phrase "graphic novel" can sometimes carry an air of snobbery that I don't want to perpetuate, and partly because I'm a sucker for alliteration. I chose the subtitle ("The Real Golden Age") because I believe that while many comics historians refer nostalgically to the "Golden Age" of the 1940s, we live in a new and exciting time for comics, with an explosion of voices, styles and stories that have never before been told in quite this way.
Are you unfamiliar with today's comics? In case you are, the first couple of posts will do a bit of explaining rather than reviewing. I'm an unabashed comics evangelist. I've taught some classes about the medium and worked with my students to publish local writers and artists, and in the process have come to believe that comics represent a unique convergence of art, literature, and communication. Comics and graphic novels are not simply illustrated stories. As Scott McCloud argues in his comics-style treatise "Understanding Comics" (1993), when comics are at their best, they add up to more—much more—than just words plus pictures.
So if you aren't familiar with the format, let me join many, many other fans in saying: s – l – o – w – d – o – w – n – ! These works aren't the eye candy you may or may not have read when you were a kid. The best examples of this medium don't make reading easier or prettier. They are playful but complicated, and can work many different parts of your brain—if you let them.
But don't let that complication scare you away! In "Making Comics" (2006), McCloud breaks the artist's decision-making process into five "choices": moment, frame, image, word and flow. These five choices are also useful to keep in mind as you read, and once you learn to pay attention to them, you'll begin noticing details, effects, and even meanings that might otherwise fly under your radar.
I'll break down and explain those five choices in my next post, and stay tuned for my first review later in August. In the meantime, if you are new to comics, one great place to start browsing is the basement at the new Better World Books location on Main Street in downtown Goshen, Indiana.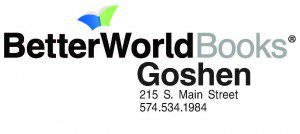 Thanks to Brad at Better World for helping keep this blog current as it develops. You can look for "Maus," "Persepolis" and McCloud's books there, and if you don't see them on the shelves, ask—you can always order them (no shipping fees!) if they've run out.