Originally published on GoshenCommons.org May 15, 2014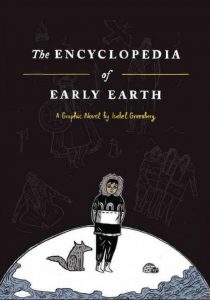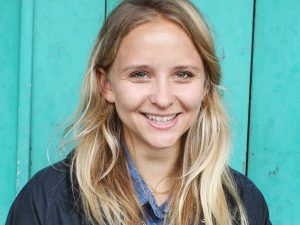 Images from npr.org.
"Readers! This book is not a real encyclopedia!" warns the back cover of Isabel Greenberg's "Encyclopedia of Early Earth." The back of the book does contain appendices and myths from an already made -up world: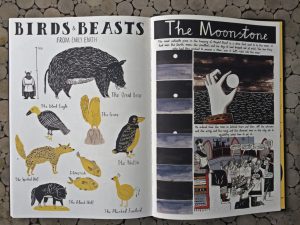 Image from boingboing.net.
The bulk of the book, however, is a travel-adventure love story: a young man and his dog make their way from the North to the South Pole in search of his one true love, who is, quite literally, a missing piece of himself.
Yet Greenberg refuses to take herself or her stories too seriously. As powerful as the love between these two characters is, for example, Greenberg centers their first meeting not on spotlights or sunsets but on a shared fashion sense for winter accessories: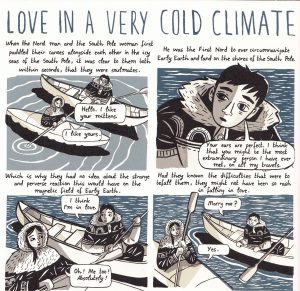 Yes, this is a story of "True Love" (as the back cover mentions multiple times), but it's also a story trying to make sense of the place of myth and violence in human history. As playful as the book is, Greenberg makes it clear that this story takes place in earlier, more gruesome times: the violent world of vengeful Old Testament gods and monarchs from the times before fairy tales were sanitized for young ears.
In an interview with London's "Metro," Greenberg explains how she first learned about comics by wandering out of the British Museum and into Gosh!, the comic book store across the street. This physical juxtaposition between comics and history explains a lot about the paradox inherent in her style, which toggles between playful and sinister: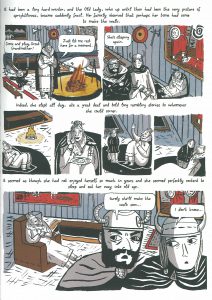 Storytelling has evolved from tapestries about vanquishing evil invaders (see the head getting stepped on, top right) to comics often childishly nostalgic for a big cause, for evil villains that a superhero can swoop in and set straight. Greenberg's fascination with this tension can come across as quite dark, as in this scene when invaders exchange high fives next to a burning home and a dead child with xxed-out eyes: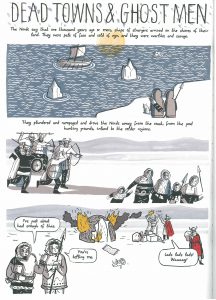 Ultimately, however, playful wins out: Greenberg works classic stories from the Bible and Greek myth into this story, but with revisions more witty than gruesome. Much of the joy of reading this book is in seeing how her version plays out. The stories of Jonah, Cain and Abel, and Genesis, among others, are retold to fit within a universe ruled by a jealous and vengeful "Eagle God BirdMan." In my favorite example, Odysseus's Cyclops is defeated by bird poop rather than a hot pointed stick: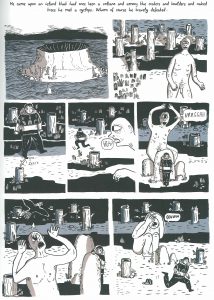 Greenberg's brilliant use of color and composition in themselves are worth the read. Black, white, and a bit of ice blue work as powerfully as a full-color palette in her hands: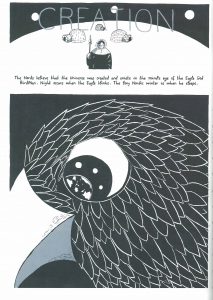 When brighter colors do appear—particularly red, as well as the orange and yellow that warm these wintry worlds—Greenberg uses them sparingly, to similar dramatic effect, as on this page, heated from below: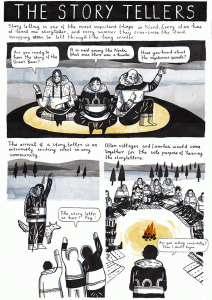 Image from isabelnecessary.com
Greenberg's website at isabelnecessary.com lists 18 different projects, both in process and completed. Some are traditional books, some online and some completely outside the box: she created life-size walls and furniture for a visitor's center at a National Trust property called Tyntesfield House, and she painted a whole selection of nesting dolls and eggs.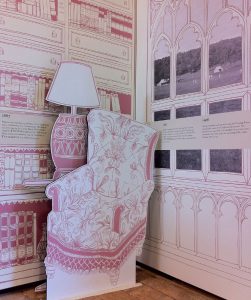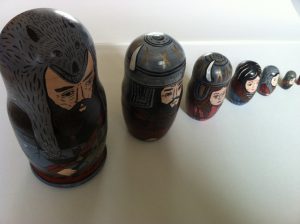 Images from isabelnecessary.com
She's also the chief illustrator for the Museum of Marco Polo, an online journal posing as an "imaginary museum," created and run by "a team that moonlights from their daytime jobs as museum-makers." In short, you'll need to keep looking beyond the page, in unexpected places, for Greenberg's future work, but "The Encyclopedia of Early Earth" suggests that your efforts will be well rewarded.
A bit of news: since Goshen Commons will be taking a year-long hiatus, Commons Comics will be moving to the Community Bloggers section of The Elkhart Truth. I'm not sure when the first post will go up, but I'm going to try to stick to our bi-weekly schedule, so I hope to see you there again there in two weeks. Either way, thanks to Better World Books in Goshen, Indiana for helping me get Commons Comics off the ground, for keeping it fueled with awesome comics and for sticking with it during the move. Browse their downstairs selection of graphic novels, and keep those comments and suggestions coming.