National Hispanic Heritage month just ended, so although I'm a bit slow on the uptake, here's a new addition to my archives, a review originally posted by the Elkhart Truth on December 1, 2015.
Warning: Beware the bad puns.
Thanks to Better World Books, 215 S. Main St. in Goshen, 

for providing me with books to review. You can find all of the books I review at the store.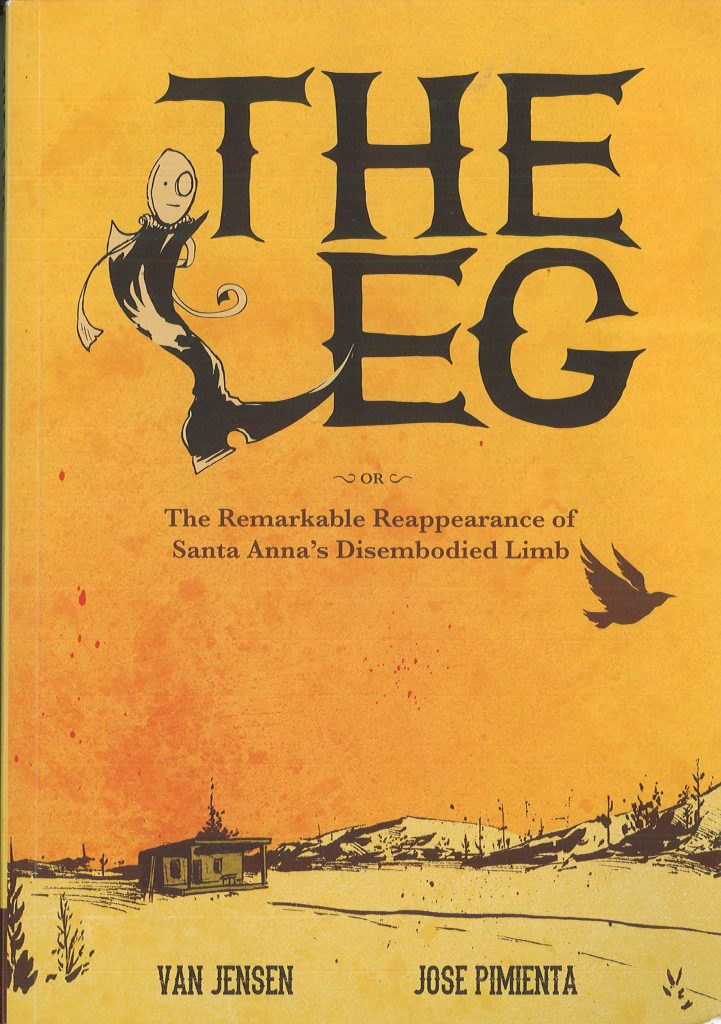 Author Van Jensen and illustrator Jose Pimienta  had some trouble finding a publisher for their graphic novel "The Leg." Part of the problem was the story's hero: as their Kickstarter video pitched it, the protagonist is "the strangest hero comics has ever seen."
The history of comics boasts some pretty strange heroes, especially superheroes. Nevertheless, I think they might be right. The leg in the title belongs to Mexican General Santa Anna, a hero in Mexico's 1838 Pastry War against France. Santa Anna was a pretty strange character himself: he lost his leg in battle, which was certainly common enough, but then he gave it—yes, the leg—an elaborate military funeral, and proceeded to become such a terrible politician that his constituents dug his leg back up and dragged it through the streets.
Weird, gross, epic—perfect for comics!—but still a bit of a stretch. Comics have a rich tradition within the genre of horror, certainly, so disembodied limbs and heads have been villains. But a severed limb as a hero?
Believe it or not, it works. Cue the spaghetti western music, and witness the Leg one hundred years after the war. He has been living a quiet life with a blind cobbler, but when a group of gangsters kills his friend, he sets off on a journey to avenge him: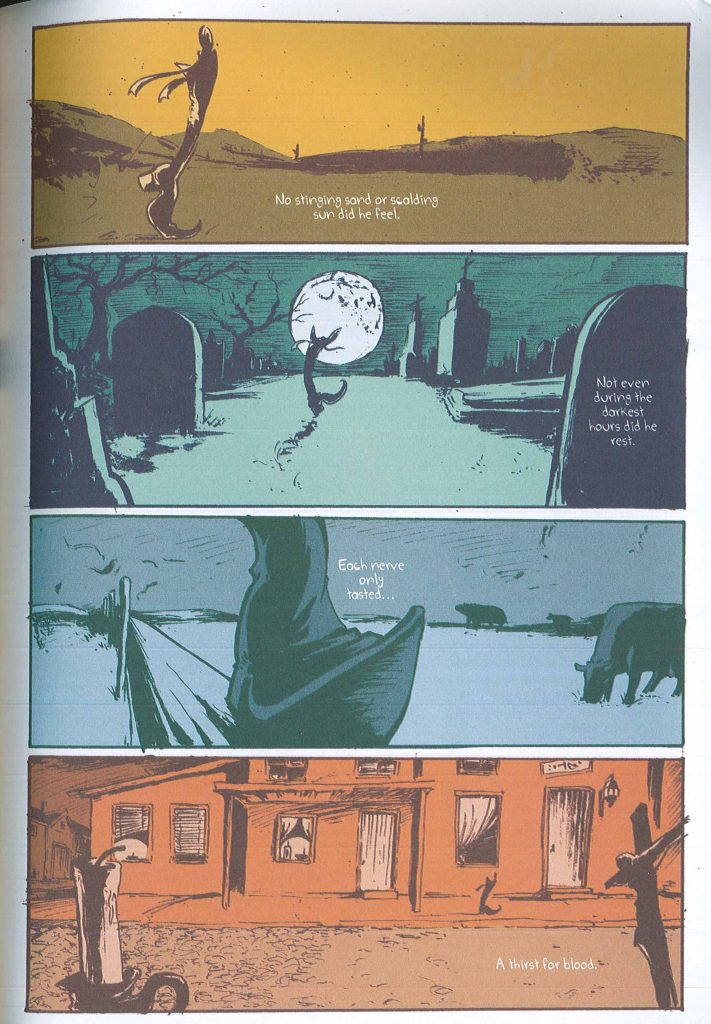 Are you laughing a bit? I hope so. While this story incorporates some serious history, it fortunately doesn't take itself too seriously. What's amazing, however, is just how emotionally attached readers become to the Leg in this early part of the story, despite its lack of face or limbs.
When Jensen pitched the story to Pimienta in 2011, the artist loved the idea not just for its Mexican history—Pimienta grew up in Northern Mexico—but also for the challenge. Pimienta recently admitted that he also wasn't sure at first how to pull off the illustrations. In a "Comics Alliance" interview from May 2014, he explains that he began by studying animation rather than stills, "a bunch of classic animation, and old animation exercises like the bag of flour  or the bouncing ball," and even the Pixar lamp—all of which manage to connect with audiences despite the lack of a face, or even limbs.
A sidekick also helps. Soon after the Leg sets off on his journey of revenge, he is befriended by a little girl named Ana, who has just escaped from a convent, and is on a journey of her own to reunite with her parents in the United States. Ana draws a face on the Leg, which multiplies its emotive possibilities.
A couple of plot twists later, Ana and the Leg have joined forces to save President Cardenas from an assassination attempt. Their star-studded cast of supporting characters from Mexican history and folklore include a wizard, a "Witch Wife," and even the artists Frida Kahlo and Diego Rivera. While historical accuracy is one of the strengths of the book, the fantastical pages prove the most arresting: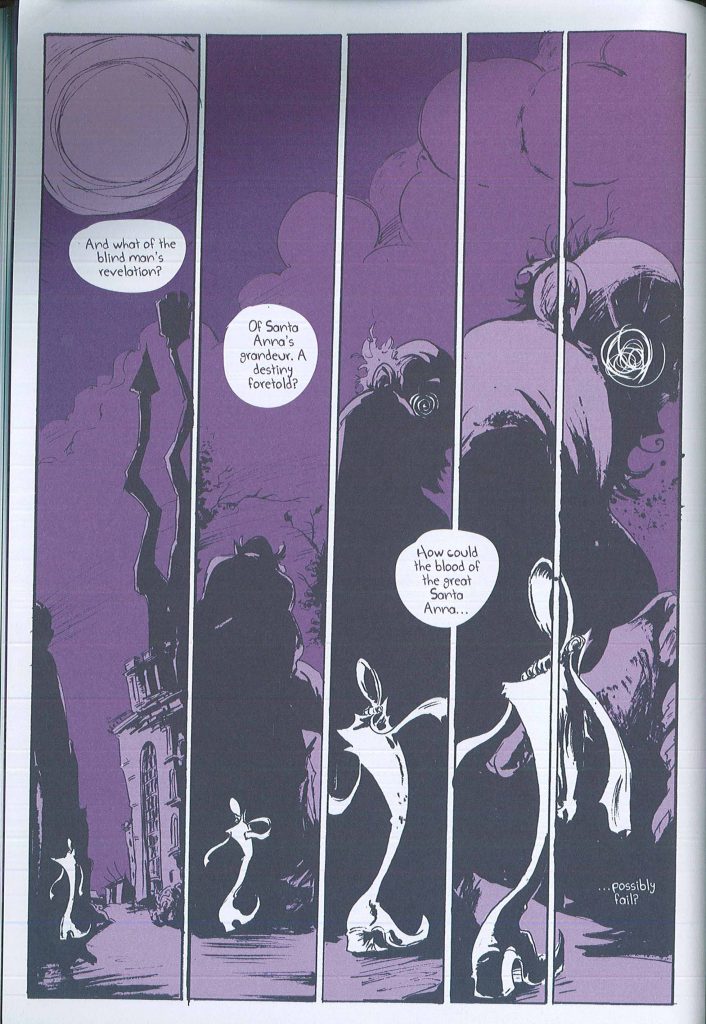 Pages like this showcase Pimienta's mastery of both nontraditional frames and contrast, not just of light and dark but also of lines. When the giant turns around to reveal sketchy eyes and Ralph Steadman-like ink splatters, their clash with the solid lines on the rest of the page create unsettling movement, pitching the reader into vertigo along with the Leg.
Giants and witches make this book's official classification as "historical fiction" seem a bit of a stretch, but Pimienta put a lot of research into his images, particularly the street scenes.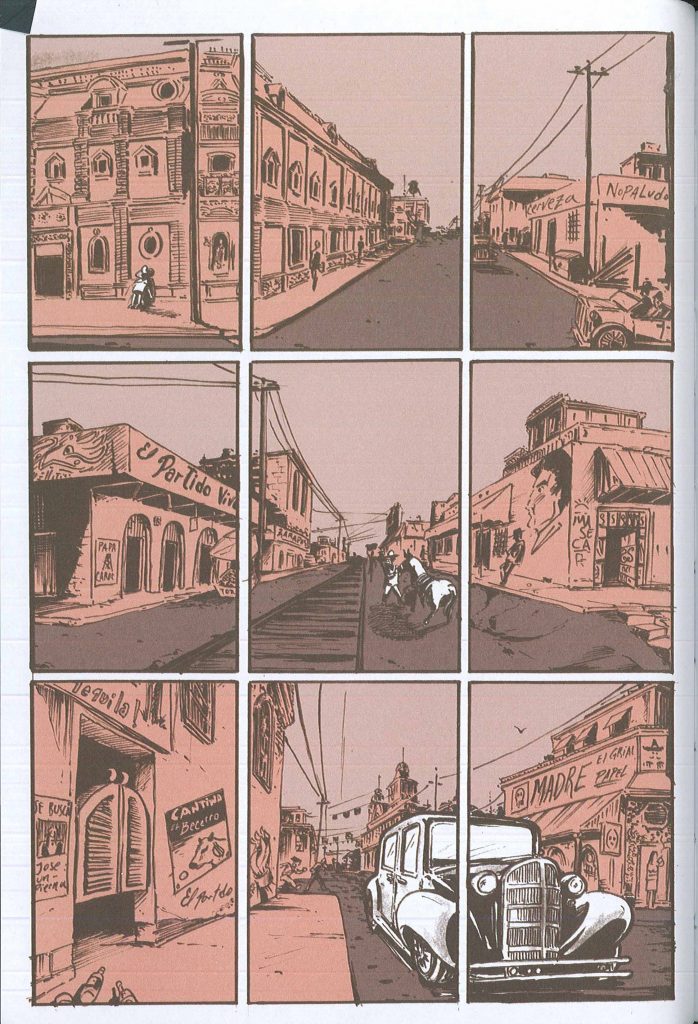 Pimienta continually plays with the border between real and imagined, testing readers' suspension of disbelief as they follow a disembodied leg through historical Mexico. On the above page, for example, he stretches out time and space, as the traditional nine frames coalesce into three long, but stuttered, panels.
Magical realism—particularly the Latin American branch, from Jorge Luis Borges to Gabriel Garcia Marquez and Isabel Allende—is more than just fantasy. "The Leg" proves a worthy successor by embedding significant cultural and political critique—of Mexican political corruption, as well as U.S. immigration policies—into its oft-fantastical universe.
But this book resonates well beyond such political specifics. As Jensen explained to "All-Comic" in a 2014 interview, "I think the underlying message is that life is far more magical and, well, weird than we realize," a message that makes particular sense as we approach the holiday season in the U.S. An avenging disembodied leg sounds too unbelievable? Let's not forget about that overweight guy who flies, fits down a chimney, and manages to keep the fringe on his suit white, to boot.