Another post from the archives: this review was originally published for the Elkhart Truth in early August 2015. The "Lumberjanes" crew has been prolific since then: Volume 8 just came out this past February, and Volume 9 is expected in July.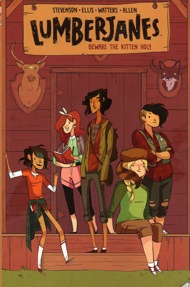 Thanks to Better World Books, 215 S. Main St. in Goshen, for providing me with books to review. You can find all of these books at the store.
Search for "women" and "woods" on the Internet, and you'll mostly turn up harrowing stories of rescues and close calls. Despite the long history of the Girl Scouts and other nature-oriented organizations, our culture generally expects for women and girls to look something like this in the woods: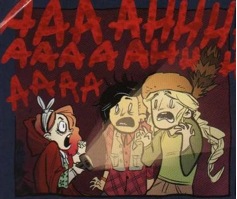 The young adult series "Lumberjanes," however, has no patience for such stereotypes. These campers at Miss Qiunzella Thiskwin Penniquiqul Thistle Crumpet's Camp for "Hardcore Lady Types" may be briefly startled, but it only takes until the bottom of the page for them to recover, with style and grace, no less: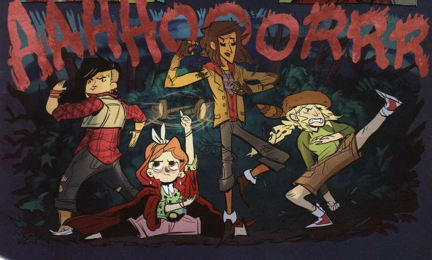 The first four issues of the series, collected as "Lumberjanes: Beware the Kitten Holy," has just been released as a trade book. Now on single-issue sixteen, Mal, April, Jo, and Molly (pictured above) and their hyperactive friend Ripley, continue to battle stereotypes—along with supernatural wolves, sea monsters, yetis, and mind-controlled boy scouts.
The original four-woman creative team responsible for "Lumberjanes" doesn't look much like the characters above (although lead writer Noelle Stevenson  vaguely resembles Mal, on the left). Nevertheless, I like to picture them taking on a similar battle-ready formation last month as they stormed the traditionally male-dominated Eisners, the most prestigious awards for comics and graphic novels. Stevenson's co-writer Grace Ellis, along with illustrator Brooke Allen and Boom! Box editor Shannon Watters took home two of the biggest awards for 2015, Best New Series and Best Publication for Teens.
What makes this collection so outstanding is its ability not just to break stereotypes, but to educate—stealthily, with nary a twig snap to alert even the most education-reluctant reader. The plot is so quick and fun that readers of all ages (my three- and five-year-old sons love it as much as I do) barely notice that they're learning about important women from history every time someone "swears" (Holy Joan Jett! Holy Bessie Coleman!).
Perhaps even more valuable than what readers learn from "Lumberjanes" is what they unlearn, especially when it comes to stereotypes about female action heroes. As co-writer Grace Ellis told an interviewer for "Comic Book Resources" last year, "yes, this project is definitely an intentional effort to chip away at the mountains of cliched women in comics and media at large."
Such a goal could well weigh the story down, but the creators are having too much fun, which is especially evident in Allen's illustrations. One of the sources of playful tension in the story is cabin leader Jen, responsible for the campers' safety and education. In this frame, she's taken them out in canoes to earn their Naval Gauging Badges, but realizes that the normally placid waterway has developed flash rapids: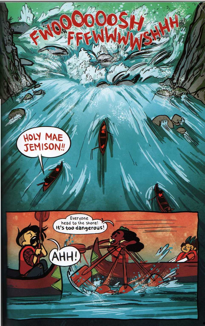 Allen is a master at translating the slapstick style of Saturday morning cartoons to the page; "If it was animated I loved it," she told a blogger for "Women Write About Comics" in an interview last March, citing influences from Looney Tunes to Cartoon Network.
Much like those cartoons, Stevenson and Ellis ramp up the plot every couple of pages to keep the action positively manic. Since effective pacing is about contrast, however, the chapter openers slow things down at bit, while also providing structure. Each chapter begins with an excerpt from the "Lumberjanes Field Manual," a respectful parody of the Girl Scout badge program: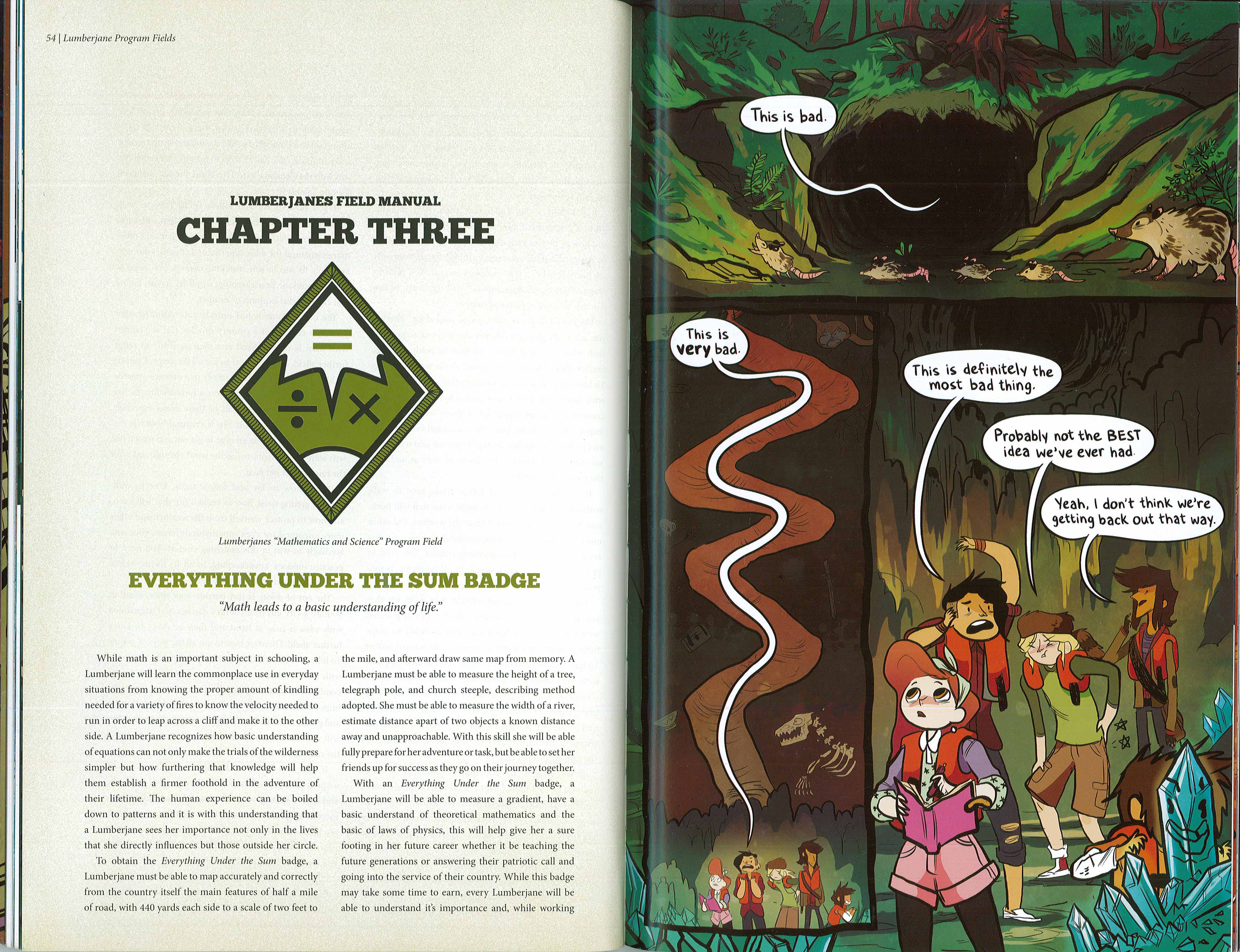 The badges even have their own designer (Kate Leth) and have become rare and much-coveted among Lumberjanes fans since they first appeared at the 2014 San Diego Comic-Con. (The Up All Night and Space Jamboree badges are already out of stock.)
It's also simply refreshing to see five girls cooperating, rather than competing in the mean girl style so prevalent in too many young adult stories for girls. "Lumberjanes" is as beloved by men as women—almost fifty percent of the gushing reviews I found were written by men—and no matter our gender, we would all do well to keep the Lumberjanes pledge in mind. It's long enough that only one of the five campers has it memorized, but if all of us could, at the very least, remember to "pay attention and question the world around [us]," "be interesting and interested," and especially "always help and protect [our] friends," maybe we could heal some of the cultural rifts deepening on the internet and in the world as of late.
And no matter your age and gender, once you start reading "Lumberjanes," it's hard to stop. Stevenson just announced that she is stepping down from the series, but Boom! Box has already brought in new talent (Kat Leyh, of the webcomic "Supercakes"), and you can also look forward to seeing these characters on screen, since Fox recently purchased the film rights. In the meantime, we can all work on our Binge Reading badges by catching up on the single issues: #17 is due out later this month.