This post was originally published by the Elkhart Truth in November of 2014. Ms. Marvel hit its 50th issue in June, and the collected trade of the series is now up to Volume 9, which just came out in July. If you haven't read this series, it's the perfect time to start: you've got a year or two to get caught up before the release of the Ms. Marvel film.
Thanks to Better World Books, 215 S. Main St. in Goshen, for providing me with books to review. You can find all of the books I review at the store, or order them for free if they're out.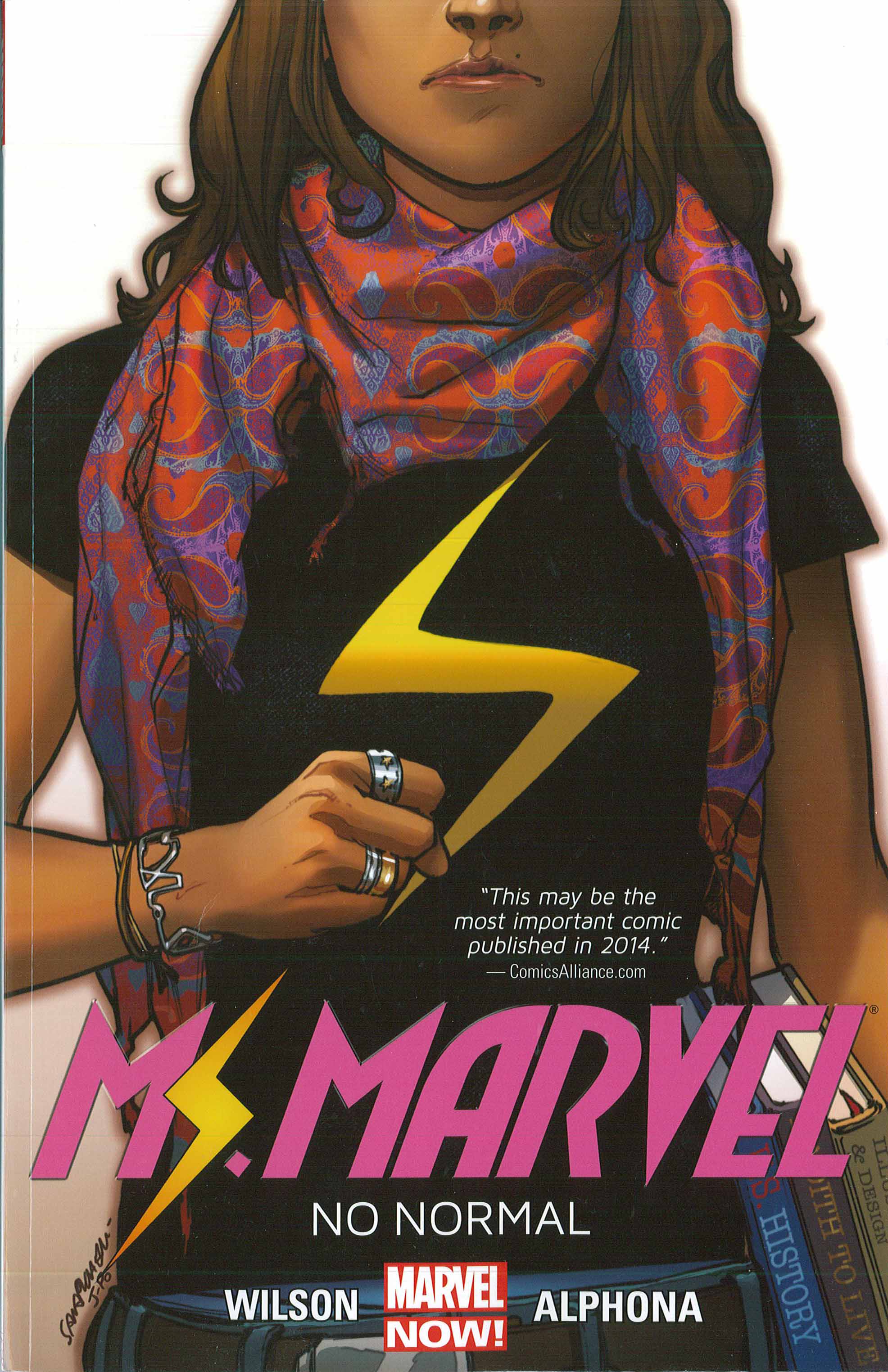 "Some people get to hide out in space stations. I get a Circle Q." So speaks the edgy yet grounded Kamala Khan, a.k.a. the new Ms. Marvel. In "Ms. Marvel: No Normal," the first collected trade volume of the most recent incarnation of Ms. Marvel, Khan is a second-generation Pakistani-American from Jersey City who has just inherited superpowers she doesn't yet fully understand. She's a Muslim teenager who writes superhero fan fiction, both loves and resents her parents, and like many North American teenagers no matter their faith or lack thereof, just wants to fit in.
Ms. Marvel was created by Marvel editor Sama Amanat and the series' lead writer, G. Willow Wilson. Wilson, who grew up in New Jersey herself, converted to Islam later in her life. She has written memoirs and novels as well as comics, and her skill makes this series stand out from much of the mainstream comics fare, particularly with its tight plot and complex yet believable characters. Kamala Khan is complicated yet relatable, citing pop culture references as readily as she quotes "that Persian guy Rumi," whose poetry she mutters to herself as she heads into one of her first missions as a superhero: "Wherever you are was circled on a map for you."
"Ms. Marvel: No Normal" collects the first five issues of the series, which began as individual comics in February 2014. Khan is a pretty typical North American teenager until she inherits superhero powers from her idol Captain Marvel, the original owner of the title Ms. Marvel. (Watch for Captain Marvel's new movie, just announced this week, and set for release in 2018.)
If you're not a follower of Marvel superheroes, you may need some background: the Barbie-like Air Force pilot Carol Danvers, a.k.a. the former Ms. Marvel, was first introduced in the 70s as a love interest of an already established male character, Captain Marvel. Then both Captain Marvel and Ms. Marvel were involved in an accident in which he died and her DNA was altered to give her super powers. Consequently, since 2012, the original Ms. Marvel took over the name Captain Marvel, leaving the Ms. Marvel name open.
Most entertaining about this first collection is the origin story itself. Much like Spider-Man or Buffy the Vampire Slayer, we get to watch a teenager trying to negotiate her new powers and responsibilities. But unlike Spider-Man and many famous superheroes, Khan wasn't transformed by a scientific accident. Instead, she gets caught in an unexplained (but, those in the know insist, soon-to-be-explained) mist on the way home from a party she disobeyed her parents to attend. Who should arise from the mist but Khan's idol, Carol Danvers, flanked in a trippy tableau by Captain America and Iron Man. As if things weren't strange enough, Captain Marvel speaks Urdu, Pakistan's national language: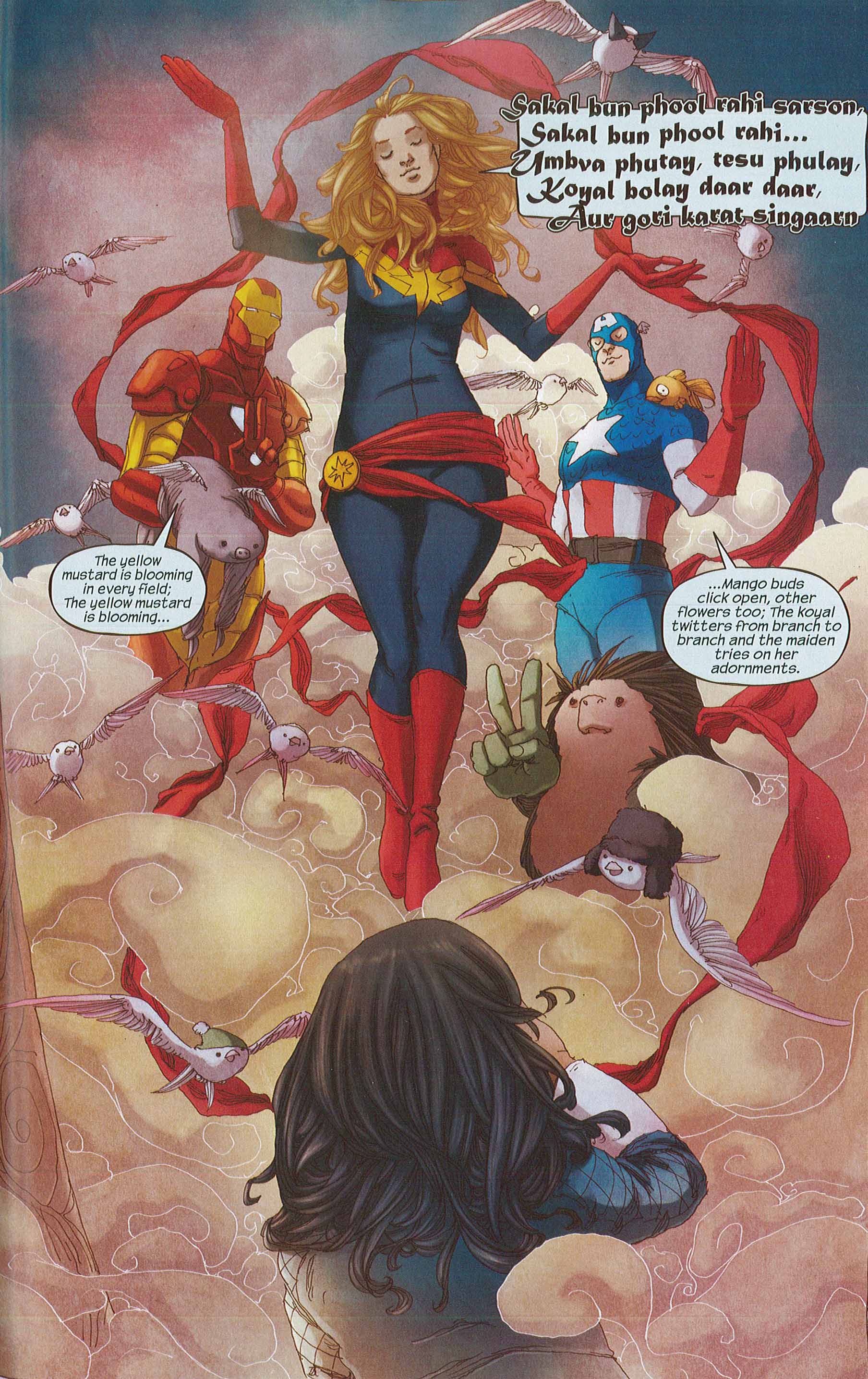 Weird, no? But most striking and compelling about this narrative is that Khan is just as weirded out as we are. For the most part, readers get a peek into a world that looks more similar to than different from the experience of most teenagers in the US, particularly first-generation teenagers negotiating their identities as American but "other."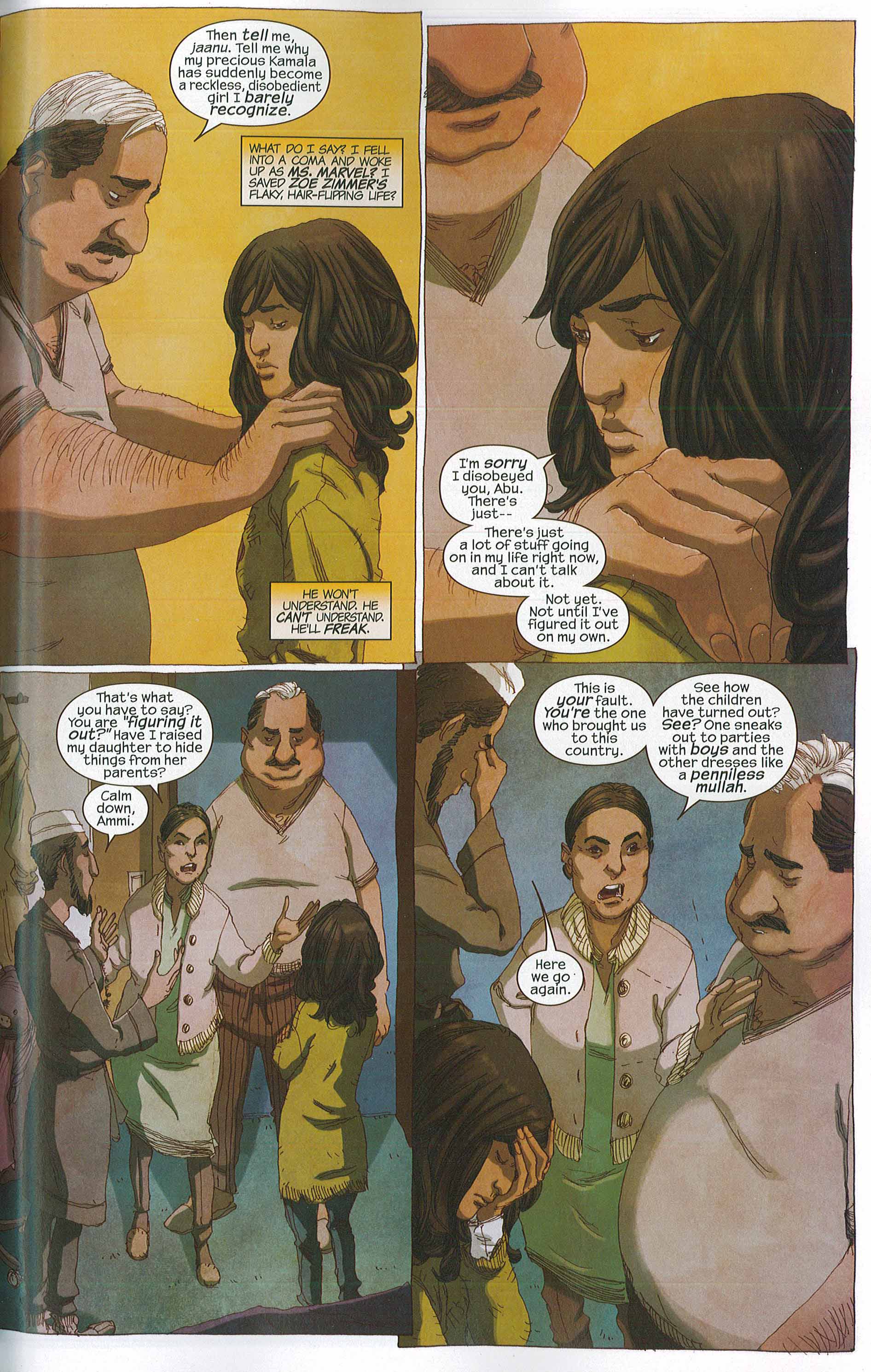 Also refreshing about this series is how it complicates rather than oversimplifies Muslim-American women's experience. Khan's Turkish friend Nakia wears a headscarf and Khan doesn't, but they both skip out of a Saturday "youth lecture" at the local mosque after a brief attempt to argue—from behind the screen that divides the women's from the men's side—against the separate entrances and segregated seating. They lose the argument and take a break, planning to return before the end so their parents don't find out. "I mean, it's not like they're gonna notice we're gone," says Nakia to reassure Khan, who's worried about getting in trouble with her parents yet again.
Of course Khan gets in trouble with her parents again—and again, and again—because that's what American teenagers do. And what clinches Khan as so likeable, as both brilliant and relatable, is her expressions. I've been discussing the writing for the most part so far, but the art by Adrian Alphona is also rich and evocative. Alphona employs the unique traits of comics art to their best effect, especially in pushing the line between realistic and fantastic—Ms. Marvel's main superpower is shape-shifting, which makes for some bizarre and gorgeous scenes—and rewarding readers for paying close attention to background details, like cereal box below: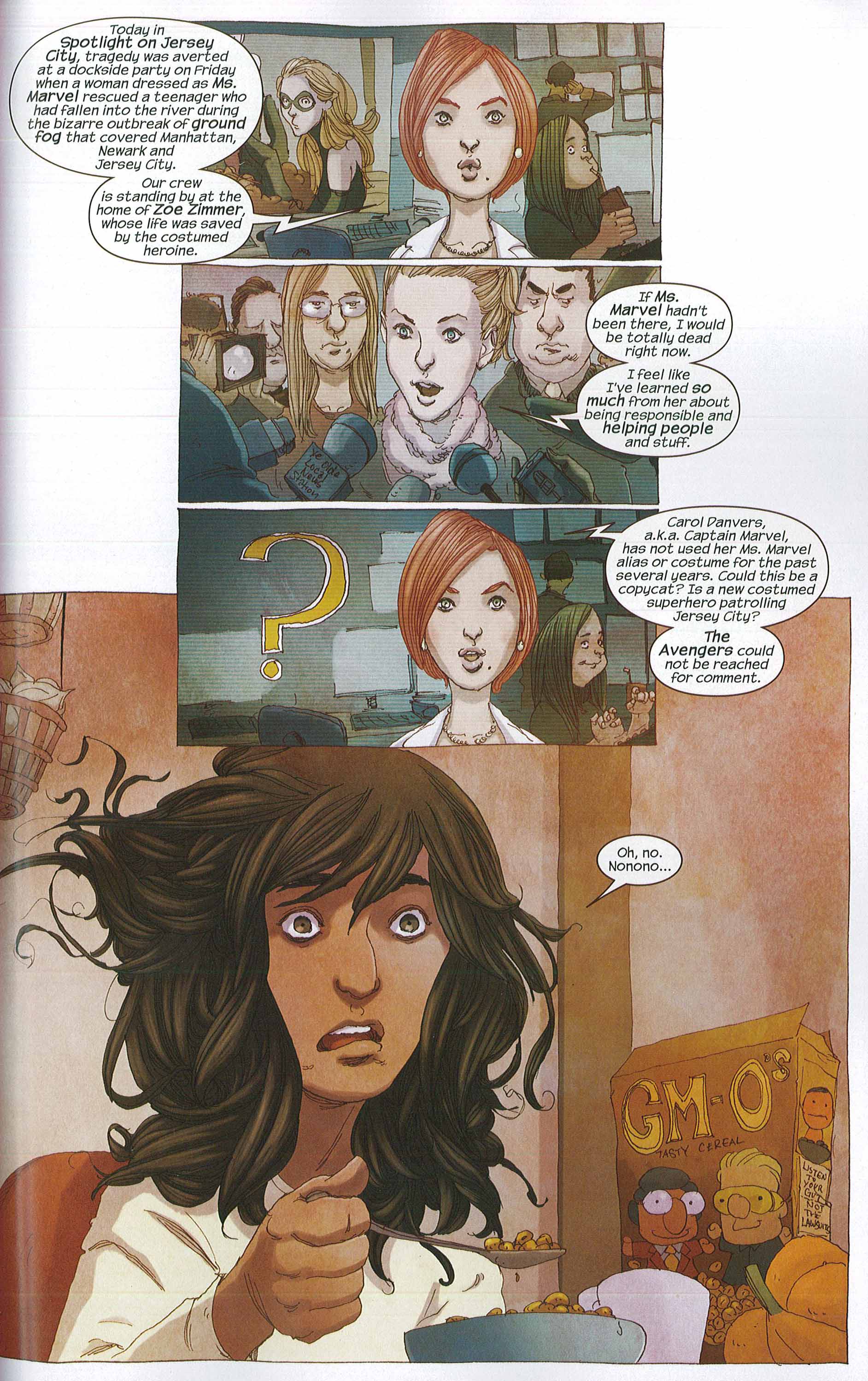 As co-creator Sana Amanat explained in an interview on the Marvel website, this series is about "what happens when you struggle with the labels imposed on you, and how that forms your sense of self." This struggle doesn't magically evaporate once we make it out of our teenage years—it's an American struggle, and a struggle that's just plain human.