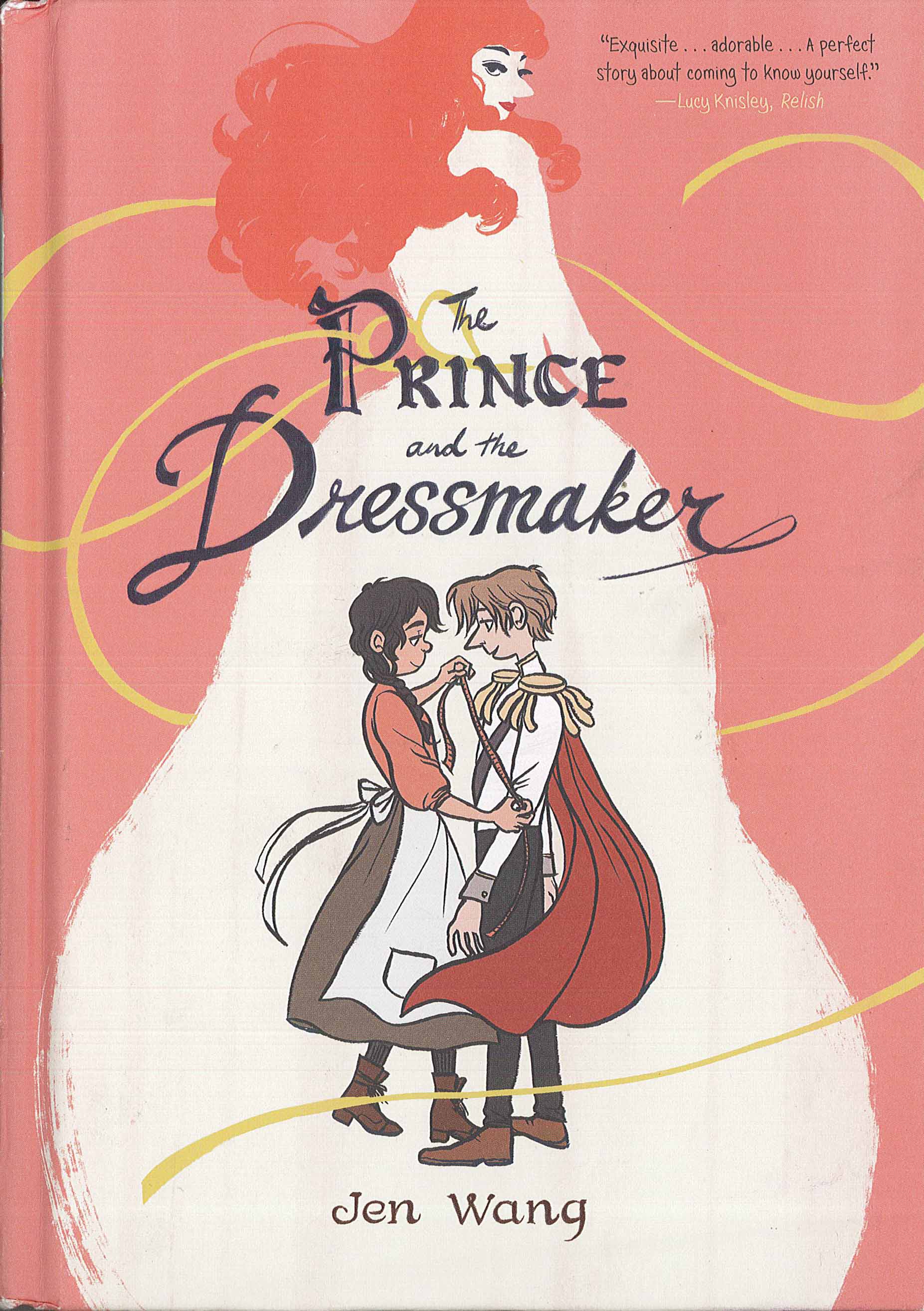 "The Prince and the Dressmaker," by Jen Wang. 288 pages, First Second, February 2018. Hardcover, $24.99, 12+ for adult themes
Thanks to Better World Books, 215 S. Main St. in Goshen, for providing me with books to review. You can find or order all of the books I review at the store.
Jen Wang's "The Prince and the Dressmaker" has been making headlines in "The Comics Journal," "Publisher's Weekly," and other publications expected for a young adult (YA) graphic novel. More surprising is that it also hit the headlines of magazines like "Forbes." Most of the press about this book highlights the gender identity of the main character, which is both fabulous and important, especially amidst the buzz about a certain royal romance. I'll get to all that in a minute.
But I first have to say that "The Prince and the Dressmaker" is a READ. It's been a while since I plowed through a book in one sitting. It seems rare to find a plot strong enough to block out the buzzes and beeps fueling our current culture of distraction. Yet as I was heading toward the end of this book, I didn't glance up. My phone could wait. I barely looked up when my family came home from the grocery store. (Okay, I'm less proud of that last moment.)
Hence, this book's only glaring flaw: you're going to have to read it more than once. You'll be flipping through so fast the first time around, that you'll need to go back and fully appreciate Wang's stunning illustrations and page composition—so expert that their craft and brilliance are easy to gloss over: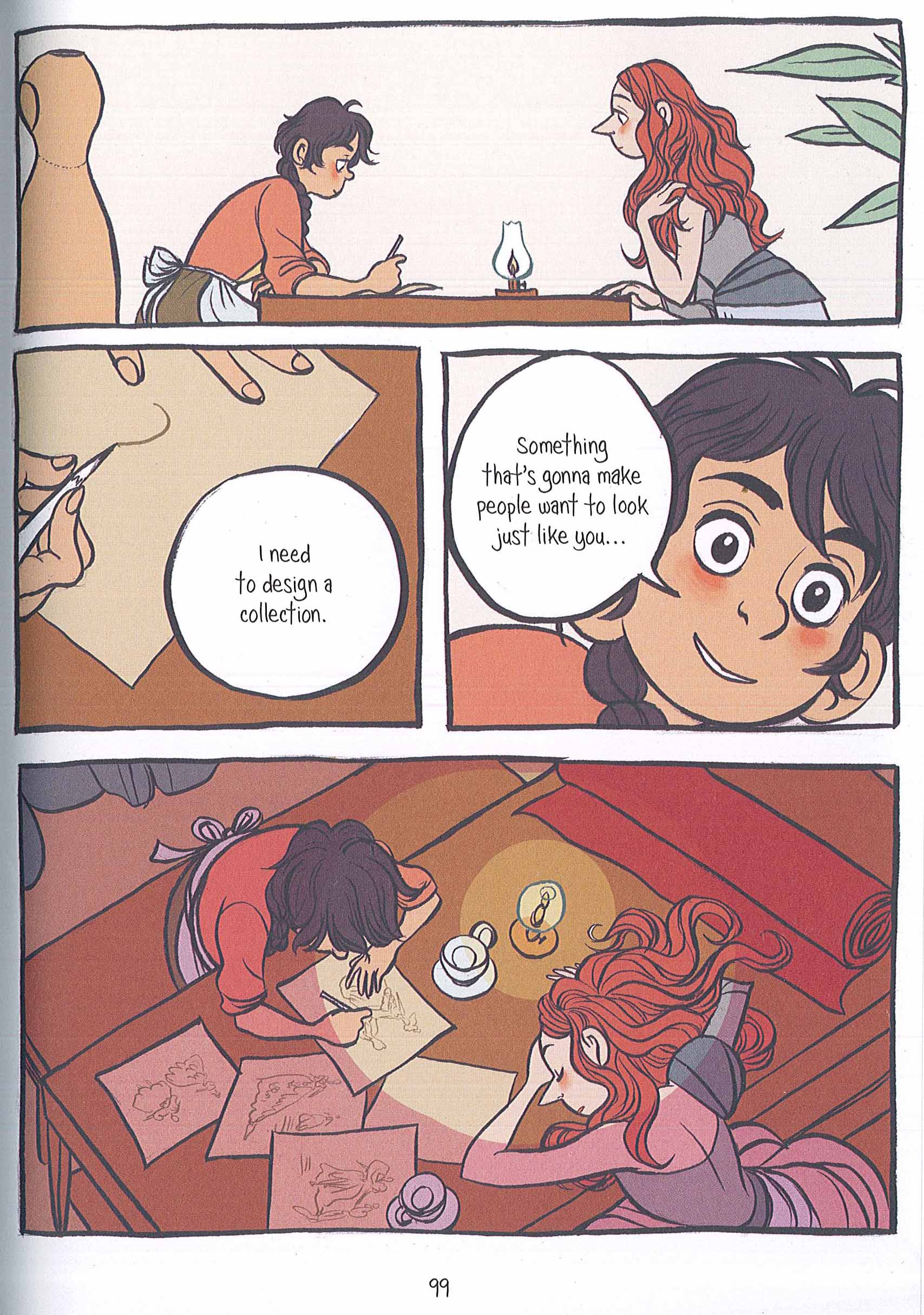 The color variation that still maintains coherence, the constant shift in distance and perspective to keep up the narrative pace, the framing (that plant peeking in on the upper right), and also subtle details like the circle of candlelight: Wang may be young (she's in her mid-thirties), but she's clearly in charge. While many comics, especially YA, are developed in stages by multiple creators, Wang does everything herself: scripting, planning, layout, sketching, penciling, inking, and even coloring. That coherence of vision shows, pulling you through the story even if you don't know where to look for it.
But I'm so enthralled with this book that I'm forgetting to back up and tell you the basic story. It's Paris in the nineteenth century, and Frances is a poor, exploited dressmaker with big talent and vision. Sebastian is a prince made miserable by his secret love of dresses. Fortunately for both of them—and for us—they meet: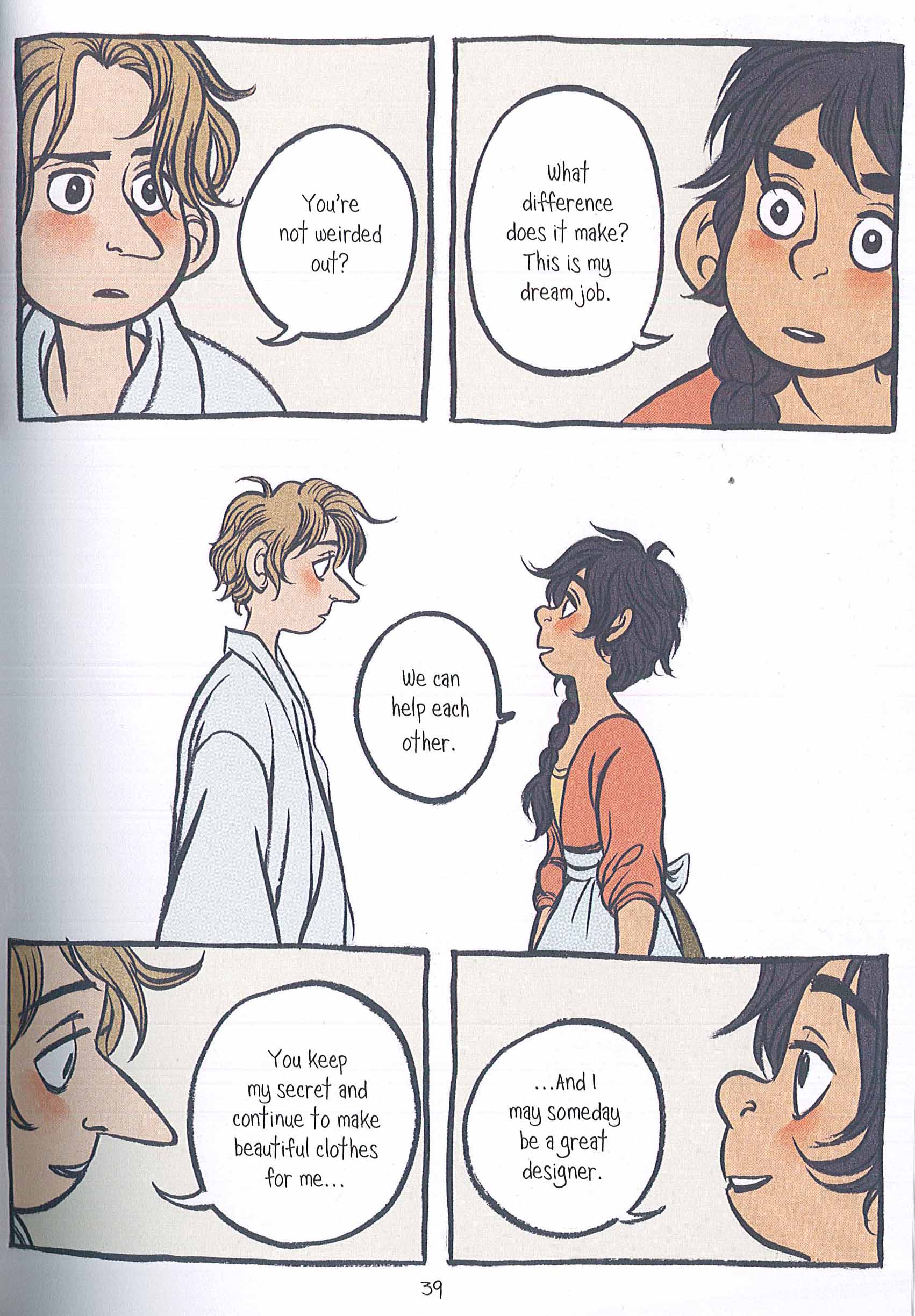 A match made in heaven, clearly! But of course, being a prince doesn't leave Sebastian much room to express himself. And Wang's illustrations when readers first meet Sebastian's family belie his deeper problems: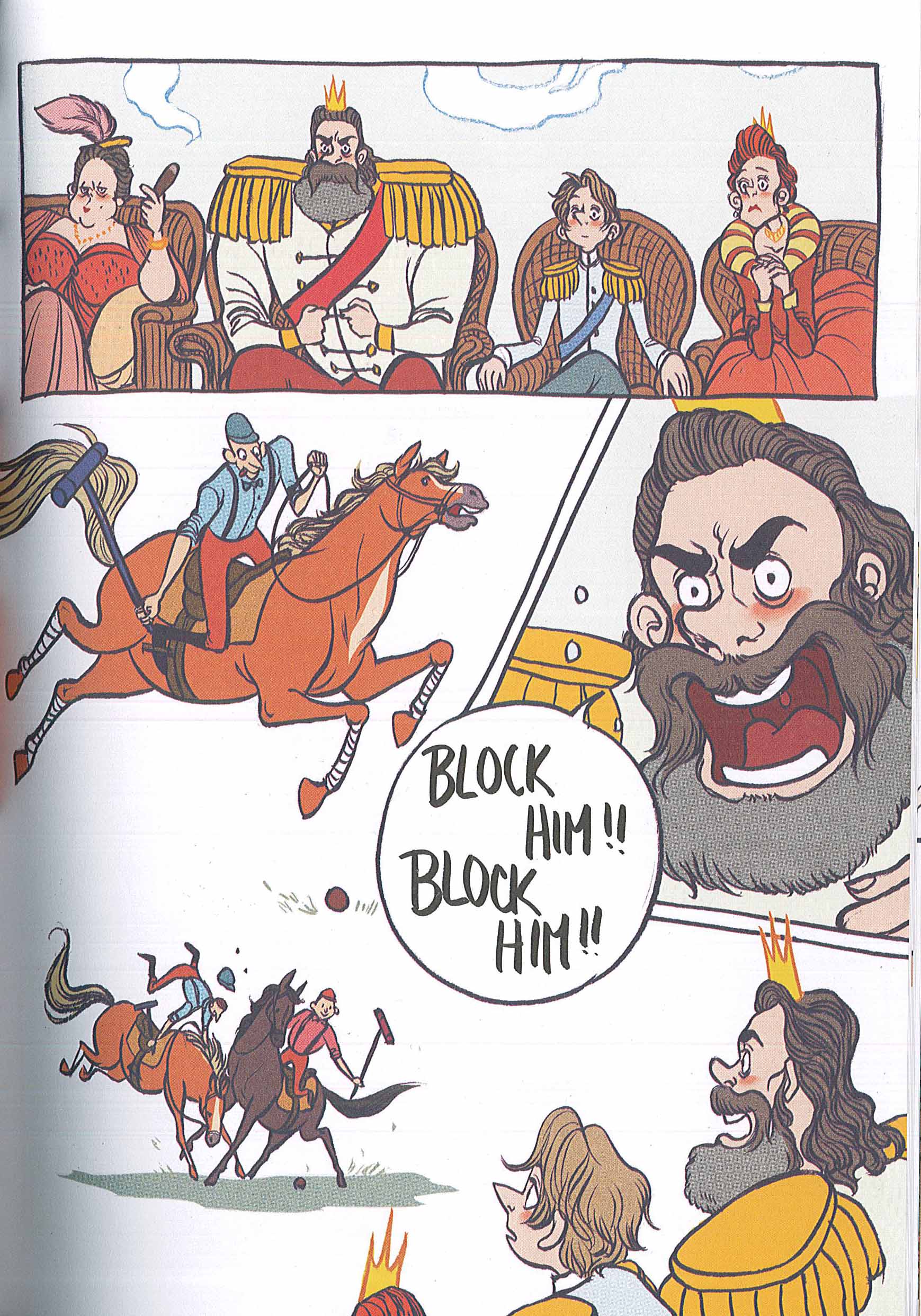 As you might guess, Sebastian feels a bit out of place. And to make matters worse, since every prince needs a princess, much of Sebastian's time is spent nodding politely to the eligible girls his family parades in front of him: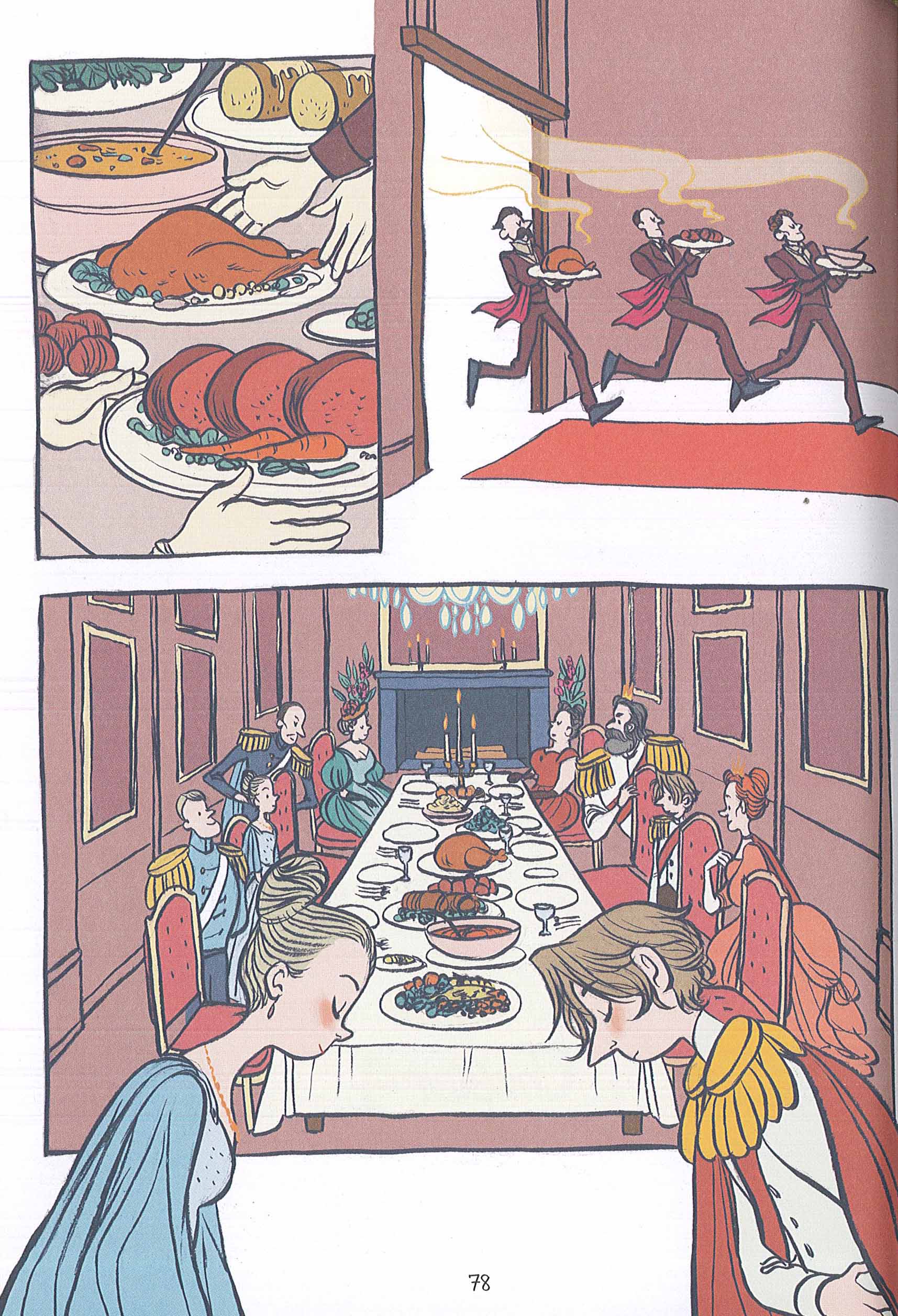 Which means that to do what he loves, which is to dress up as his alter ego, Lady Crystallia, he sacrifices a lot of sleep: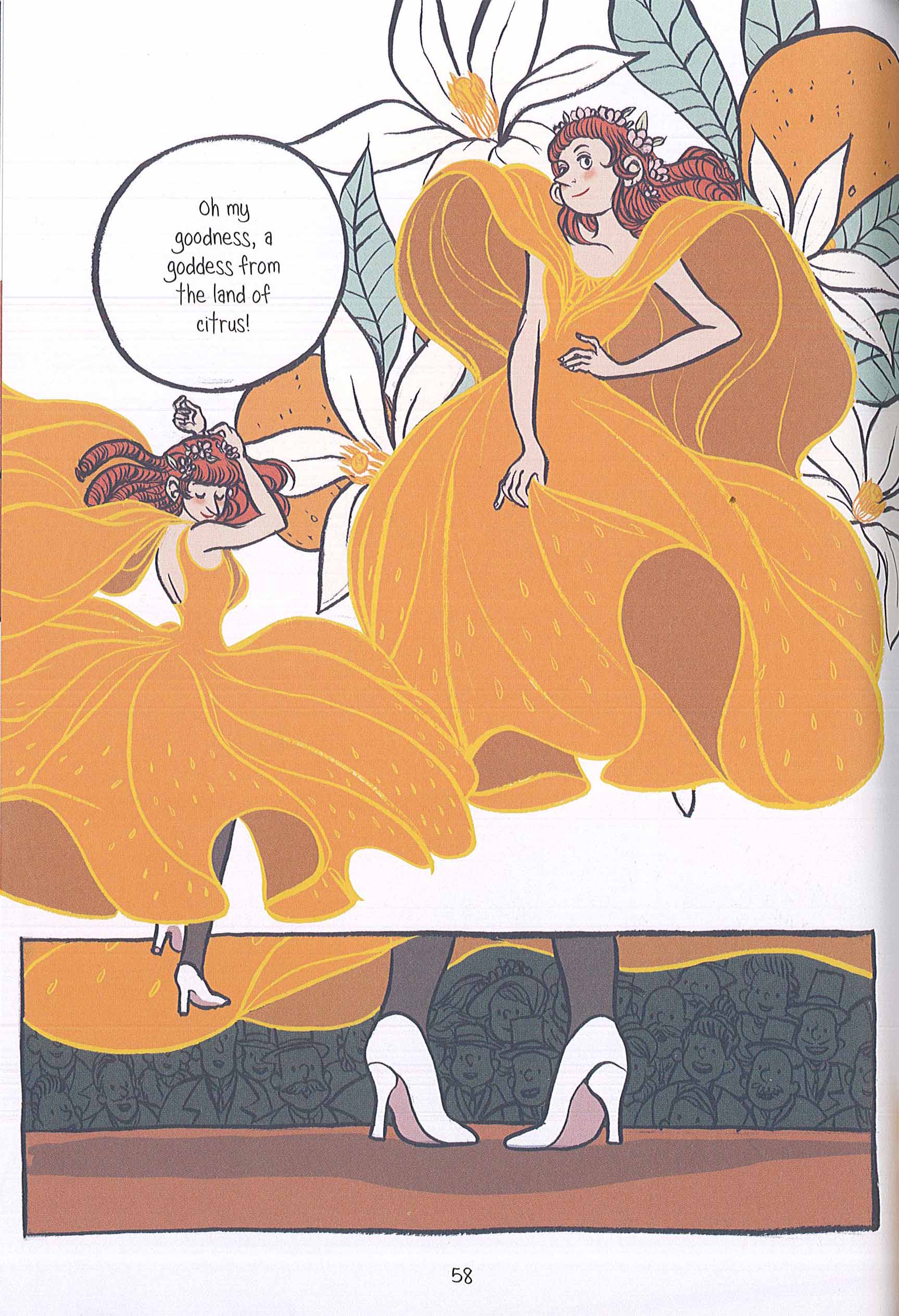 Is this story realistic? Of course not. Historical accuracy isn't the point—although Wang did conduct extensive research for this book, and discusses in interviews what she learned about fashion, changing class structure, and cultural and industrial innovations of the time like department stores and the Paris Metro.
As fascinating as all of that background is, however, this is a story is about identity and acceptance. As Sebastian admits to Frances early in the story, "I don't feel like Prince Sebastian could lead a nation into battle, but I feel like Lady Crystallia could." As Wang told "Gay YA dot org," "even though Sebastian dressing feminine is a point of drama in the story, I didn't want it to be the conflict at the center of Frances and Sebastian's relationship. Right off the bat they accept each other for who they are and it's up to everyone else to catch up."
If all goes well, moviegoers will be invited to "catch up" too: Universal just bought the rights to Wang's story. I have trouble believing that they could possibly do as good a job as Wang has here, but it's a big deal that a major studio paid money for a genderqueer script. As Wang told "Bookriot" back in February, "I wanted people to feel hopeful. So there's no villain, Frances and Sebastian accept each other right from the get go, and the world the characters live in is one that is willing to change." Here's hoping we can root for Sebastian and Frances in theaters soon, not too much longer after we've been riding the coattails—and the crazy-long wedding dress train—of Megan and Harry's royal wedding.