"Superman Smashes the Klan," by Gene Luen Yang and Gurihiru. DC Comics, May 2020. 240 pp. Paperback, $16.99. Ages: Most official outlets recommend twelve and up, although parents reporting to Common Sense Media say ten and up. (My eight-year-old has read it twice now.)
Thanks to Fables Books, 215 South Main Street in downtown Goshen, Indiana, for providing Commons Comics with books to review.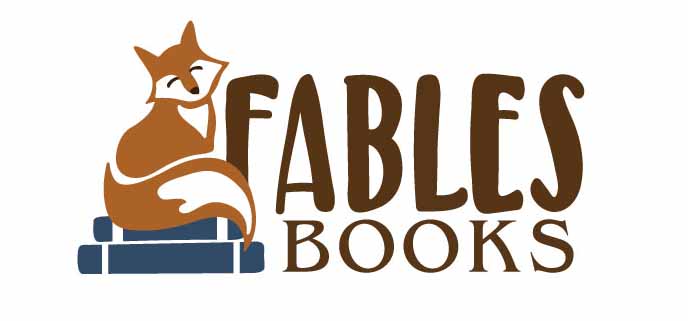 COVID-19 UPDATE: Fables is back open! Please enter through the back and follow store guidelines. High risk customers can still make browsing appointments before or after hours, and all customers can continue to order online at fablesbooks.com, over the phone 574-534-1984, or via email fablesbooks@gmail.com.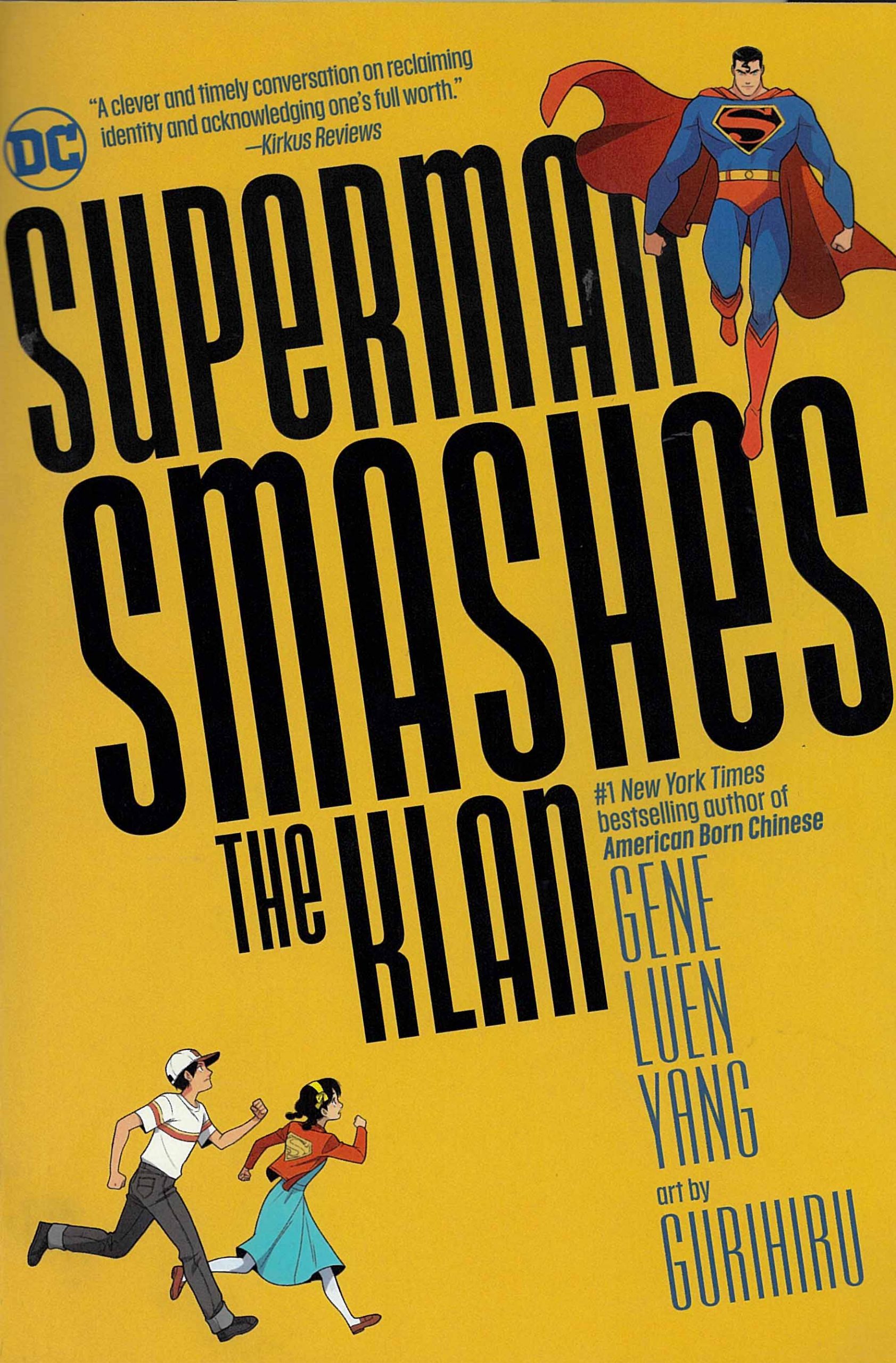 It's 2020, and I wish this Superman storyline from the 1940s were no longer relevant. As the resurgence of hate in the US has made clear, however, we do need this story again. There's no better choice for retelling it than Gene Luen Yang.
Yang labels himself "Cartoonist and Teacher" on his website. The first comics artist to serve as a National Ambassador for Young People's Literature and the recipient of a MacArthur "genius" grant, Yang wrote and illustrated the near-instant classics "American Born Chinese" and "Boxers and Saints," and has been crafting superhero reboots such as "The Shadow Hero" and a new Superman series that features not Clark Kent, but a Chinese teen named Kenan Kong.
The story that Yang adapted and revised for this book was originally released for radio rather than comics. "The Adventures of Superman," broadcast in the U.S. from 1940 into the 1950s, ran this "Klan" story arc in the summer of 1946, right after the end of World War II. (You can hear the whole thing here.) Yang preserves the basics of the original story: Dr. Wan Lee, the patriarch of a Chinese American family, gets a new job, and moves the family out of Chinatown and into a house in Metropolis. They are visited by the "Clan of the Fiery Cross" soon after they move in: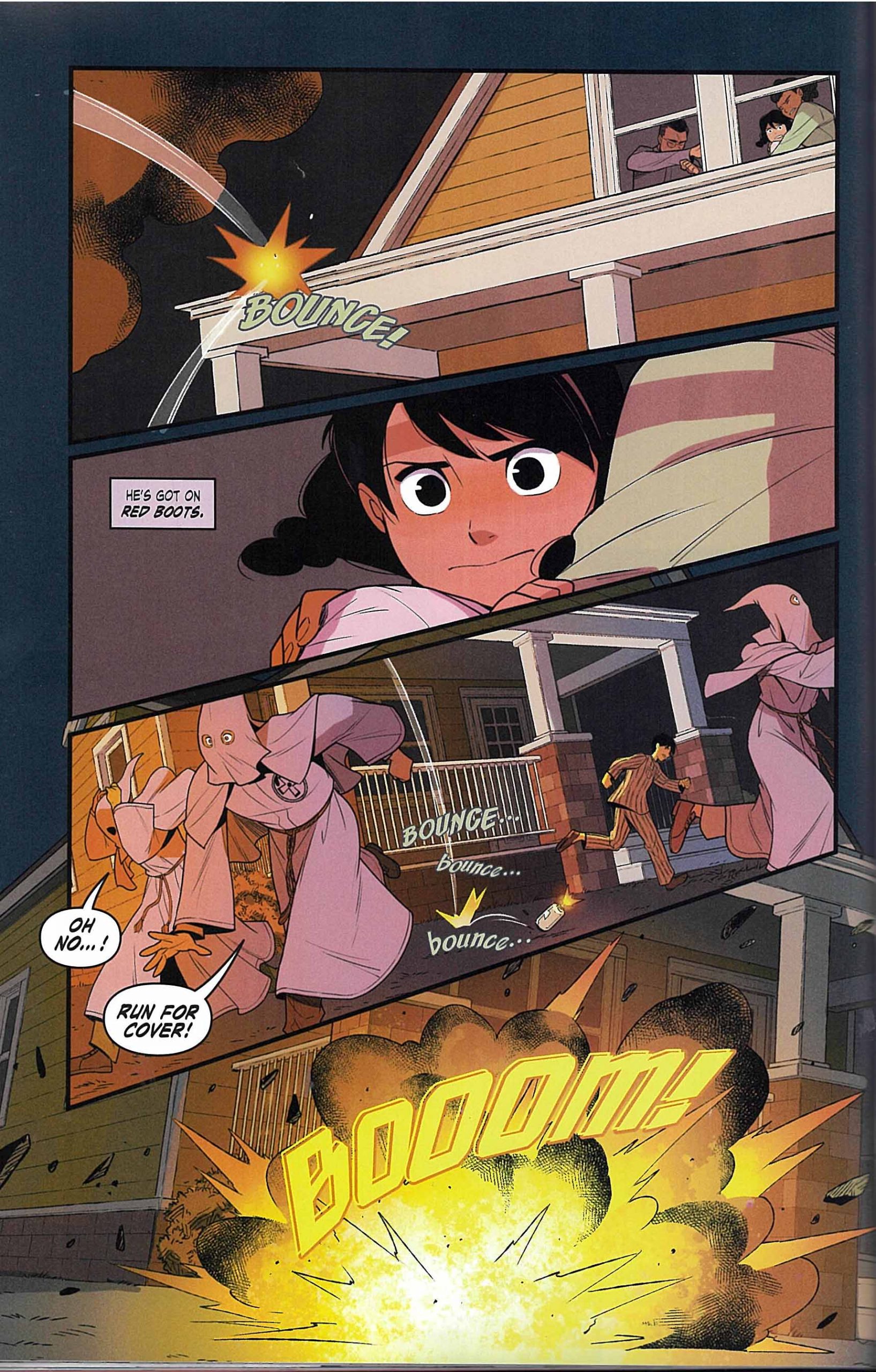 As Yang explains in an essay at the back of the book, the 1940s story spelled "Clan" with a "C" on purpose, so as not to get sued by the real Klan, which Yang notes was "legally recognized by several states." The radio series was also rumored to contain insider details about the Ku Klux Klan according to writer, activist, and Klan infiltrator Stetson Kennedy, one of the first to pitch the idea. The real damage to the Klan after this wildly popular storyline aired, however, wasn't the exposure of secret code words, but their portrayal as bumbling, money-grubbing, and more focused on playing dress-up than on their purpose and message.
Superman, of course, also dresses up in a costume, and the irony of this parallel was not lost on Yang. The book's art team, Gurihiru—two women based in Japan—pays gorgeous visual tribute to Clark Kent's famous changing booth: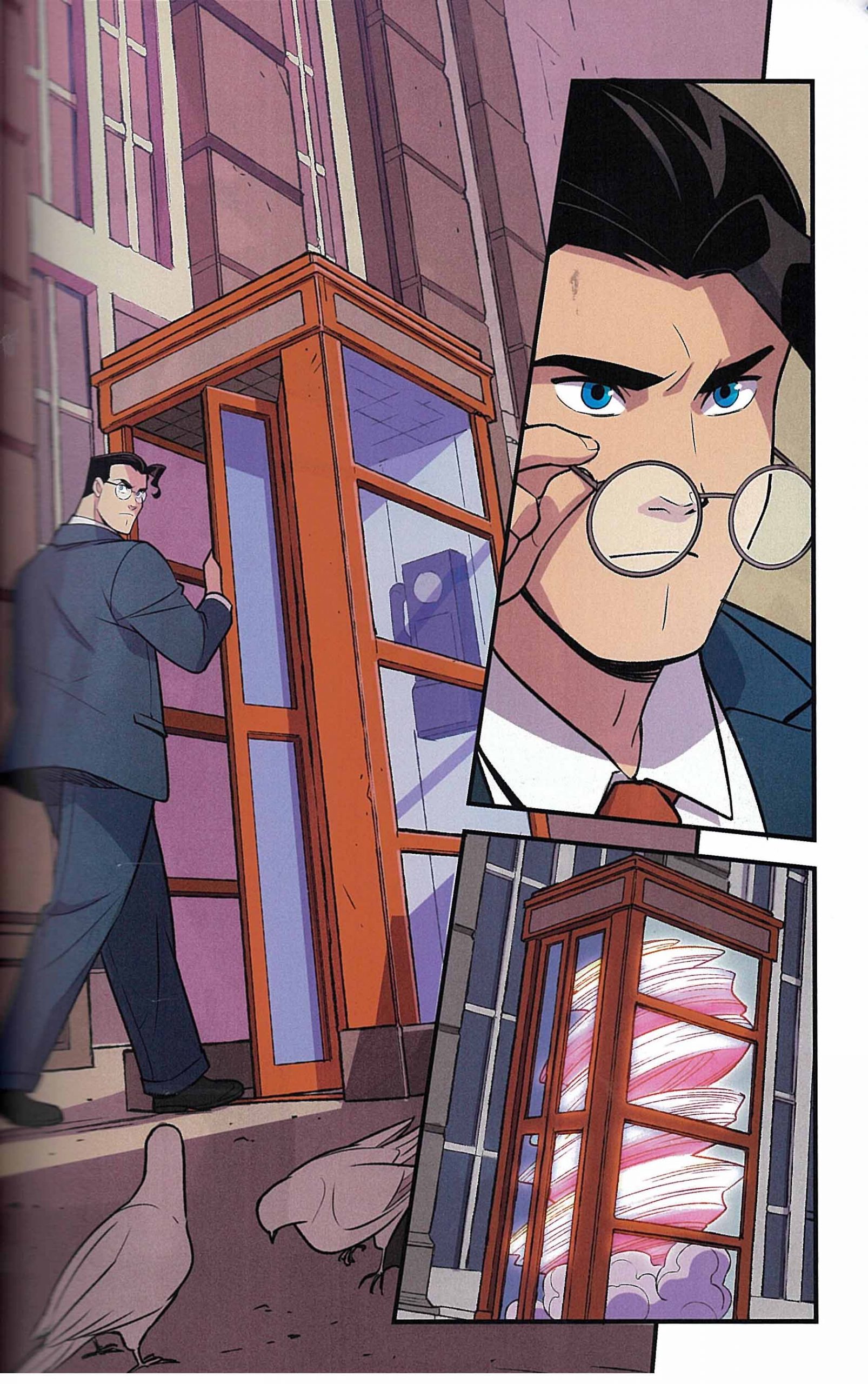 As parodied as this scene has become—the trailer for "Deadpool 2" is the most recent I've seen—it's a moment so seminal to the lore of Superman, that the story would feel incomplete without it.
The iconic phone booth scene is also about Clark Kent's double identity, which Yang, as he explained to "SyFyWire," feels he relates to almost viscerally. Yang watched his immigrant parents trying to fit in and be "perfect" much like Superman tries to do. "One of the reasons [Superman] presents himself as the Boy Scout," Yang elaborates, "is because deep down, he knows people might question his citizenship. People might call him out for being a foreigner."
Yang develops and extends the metaphor of this identity struggle throughout the book. It's not only the Chinese-American kids in the story like young Roberta Lee, Yang's main protagonist, who struggle to fit in. Superman also struggled to negotiate his alien powers, especially as young Clark Kent. Yang takes care to develop this plot thread, so carefully that the Kryptonian characters you see below can actually be translated, with the help of a key, available online and also published in the back of a previous Superman book: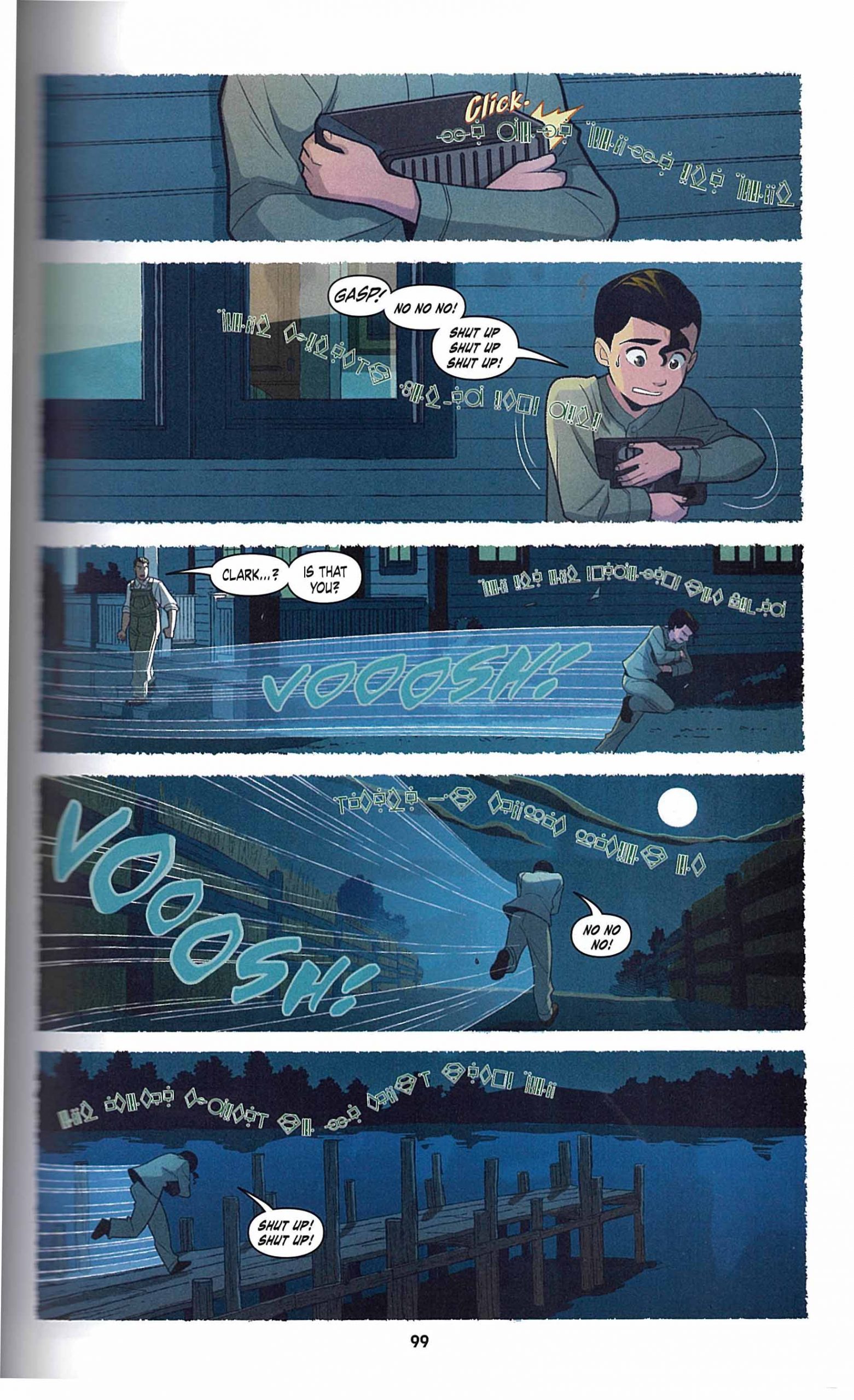 As Yang highlights throughout the book, Superman is an immigrant (from Krypton). The parents of Superman's creators, high school students Joe Shuster and Jerry Siegel, were Jewish immigrants. Clark Kent in his Smallville hometown, much like young Shuster and Siegel, is a kid who would much rather blend in than stick out.
When this storyline was first broadcast over the radio in 1946, only eight years after Superman's comics debut, Superman's powers were less than "super." According to the famous "It's a bird! It's a plane!" introduction to the radio show, Superman might have been "able to leap tall buildings in a single bound," but he couldn't fly. Yang's Superman also fumbles through what he can and can't do as a superhero, looking more like Marvel's charming but bumbling teen Spider-Man than the infallible Man of Steel that many of us grew up with.
Yet Superman has always gotten a bad rap for being too perfect—some might say nauseatingly perfect. Yang himself admits to this bias in an interview with "Inverse": "The first comic I had was a Superman comic [only] because I wanted a Marvel comic and my mom wouldn't buy it for me. She forced Superman on me because he was a Boy Scout. As I got older," Yang explains, "I realized there was a lot more nuance to that character."
Yang also develops nuance in the storyline about the ways that racism uses fear to perpetuate itself. In this scene right after the cross burning on the Lees' lawn, Yang highlights how Mr. Lee's first impulse is to separate him and his family from other targets of the Klan: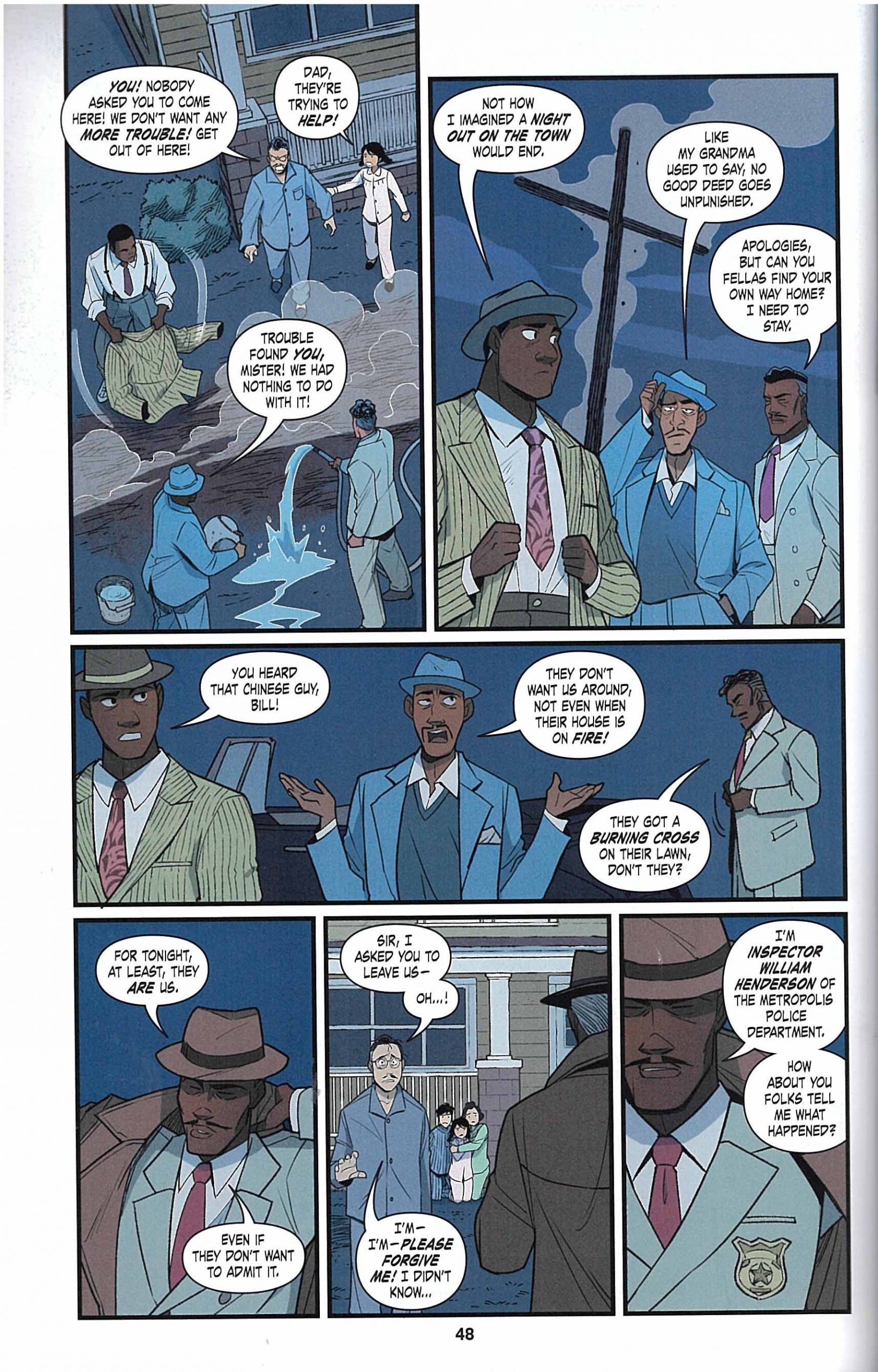 "I never had a run-in with the Ku Klux Klan," writes Yang in his closing essay. "The racism I encountered as a kid wasn't nearly as dramatic as a fiery cross. It was quiet and subtle." Yang reminds us that racism never really disappears, but mutates and changes form—but that doesn't mean that we shouldn't work to fight it and keep it on its heels. "Superman Smashes the Klan" also arms readers with plenty of tools to keep battling racism, the most important of which is community. Watching everyone struggle to do the right thing in this story helps all of us see that no, it isn't easy, but yes, we can—and need—to do it too.